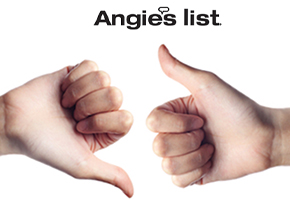 Here we take a look at one of the post popular review-based online directories: Angie's List.  Remember, these types of online listings are extremely important for your carpet cleaning and restoration businesses. They act as virtual sign-posts increasing your online presence and add credibility to your company.
What is Angie's List?
Basically, Angie's List is an online business that provides reviews and recommendations for service providers. It boasts a network of over 1.5 million subscribers who pay membership fees to access and post reviews. Angie's List is built on the idea (theory) that its business listings and reviews are more reliable since it is not a free review site. All reviews are checked before they are posted to protect against providers or companies that would try to create false reviews for themselves or against their competitors.
Businesses are rated on Angie's List when a member submits a review of their service. When your carpet cleaning or restoration business has an average rating of an "A" to a "B" you can advertise by offering discounts to Angie's List users and with premium placements. If your business reviews drop below a  "B" grade, you can no longer use any additional advertising features.
Getting Started with Angie's List
You can create a free account with Angie's List easily. Here's how:
Visit the Angie's List Business Center Page.
Click the orange button that says "Create your free account now."
The next step will prompt you to enter your company name and zip code. If your business has already been reviewed by Angie's List consumers you will be able to verify you are the business owner and customize your profile.
If your business does not appear when you enter your company name and profile, click the gray button that says, "Add Company." Or, if you think your business is already on Angie's List you can try the "Search Again" option. (HINT: Try different spellings.)
If you find your business, skip to the next subheading – What if my Business is Already on Angie's List?  If not, proceed to step 6.
Enter your company name, address, city, state, zip code, phone number, email and your first and last name. Enter the information as it appears on your company website, and all of your other Google Listings.
Pick "Consumer Service" as your general service group.
Add the categories that apply to your business. They list Carpet Cleaning and Water & Smoke Repair as options that may fit your company.
On the next screen you will be asked to confirm your company name and address, and you will be given a company ID. Check the box to confirm the information is accurate and then click the green "Submit" button.
A green button will appear on the right-hand side of the page that says, "Access your profile." Click it to see and edit your Angie's List profile.
A prompt will appear showing you what information is missing in your profile. Continue to modify it. You will automatically be guided through a series of steps to complete your profile, which are listed below.

First you will be asked to enter in the geographical area your business serves.
Next you can add any additional categories, if applicable, to your business.
Then you will be able to add your business description and what services you do or do not offer.
On the next screen you will be able to fill in payment details, including what types of payments you accept.
Next you can fill in business details, such as what year your business was founded and what your hours are.
Lastly, fill in any licensing details.
A box will appear telling you that your profile is complete, however, there is a little more you can do to optimize the page, so rather than follow the link to Visit your Home Page, close the dialog box and then click the Company Information link in the green banner at the top of the page.
Although it says right at the top of the page that the profile is 100% complete, if you look down under Company Information you will see, in red, your fax number, website, Facebook and Twitter information are missing. Click Edit to add them now.
A little farther down the page you can add a service area map, where you can actually highlight the areas you service on a map.
Lastly, hover your mouse over the Company Information tab and select Portfolio. There you will be able to add your company logo, photos, and videos of your work. (The basic free Angie's List option allows you to add 3 photos and 10 videos in addition to your logo.)
Next, click View Profile to see how your business listing will appear on Angie's List.
Make sure to check back regularly to read and respond to reviews on your carpet cleaning or restoration business.
When getting started with Angie's List remember the following:
The number of reviews you have directly corresponds to the business you will get.
Do not low ball on your offers.
Do not pay more than 25% for a Big Deal.
Never let Angie's List pre-sell your services.
What if my Business is Already on Angie's List
If a reviewer has already put your carpet cleaning or restoration service on Angie's List when you enter your business name and zip code it will appear in the next window. If you see your business, select it. Next, you set up account access by entering your first and last name, and your email address. Then, create a password and check the box confirming that you are in fact the owner. Once you do this you will be able to edit your business information and respond to reviewers.
Why Should my Business Use Angie's List?
Not being on Angie's List can actually be detrimental to your business. If a reviewer has already added your company you may be on Angie's List without your knowledge. You could be missing the opportunity to connect with customers in a positive way, or respond to negative reviews about the services you provide. You can't afford to have people talking about your company on such a widely used forum as Angie's List without monitoring what they are saying and adding in your two cents.
To learn the ins and outs of Angie's List, visit their Business Center FAQ page.
What are the Cons of Angie's List?
Angie's List has a number of cons. Unfortunately, your options are either deal with them and manage your Angie's List profile or ignore them and run the risk of your business being slammed on Angie's List behind your back. Some of the basic problems include:
 While only subscribers can write a review, no one is stopping a business from subscribing under a different address and creating a fake review.
Angie's List heavily pushes advertising by businesses to push their company higher in the ranking than other companies.
Their advertising can be expensive.
Ironically, Angies List customer service can be atrocious.
Companies are offering ridiculous deals, undercutting the competition, and taking away the value of why Angie's List was initially created: to provide consumers with quality service providers.
Is Angie's List Worth my time?
Yes and no. Use caution with this one. If you search on Angie's List and find your business, you'll definitely want to claim your listing, complete your information and respond to any reviews. If you search on Angie's List and see your business is not listed you may decide that for now, it is not worth your while. However, if other carpet cleaning companies in your area are using Angie's List heavily, you will want to get in on the game.
If you do create the listing, the least you will be doing is adding another sign post for your business online, and preparing yourself if any members decide to review your business.
Your SFS Team
NOTE: Do you use Angie's List? Tell us how you like it in the comments section.