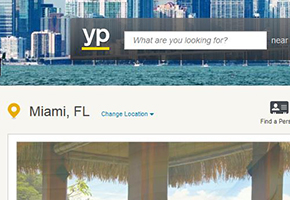 We often refer to online local listings as the "digital yellow pages," and in fact there are digital yellow pages that your disaster restoration, commercial/janitorial, or residential carpet cleaning service company should be using: Yellowpages.com. Make sure and sign yourself up for this new take on your traditional Yellow Pages.
What is the YP Local Ad Network?
According to the YP (Yellow Pages) Corporate page, "The YP Real Yellow Pages℠ directory is the largest print directory in the world and is used more than 5 million times daily by consumers to seek out local businesses. Around 150 million YP Real Yellow Pages℠ directories are distributed in the U.S. each year and over 1,200 directory titles are published in 22 states."
In their online version, "YP℠ local ad products provide advertisers with unsurpassed ability to engage their desired audiences and to connect with consumers via customized listings on the YP.com℠ site, targeted display ad placements, and Deal of the Day offer distribution. In addition to the YP.com℠ site and the YPmobile®suite of products, the YP℠ Local Ad Network offers advertisers potential reach that spans hundreds of popular search, portal and specialty content sites including Yahoo!, AOL, and Pandora."
Basically YP local ads online do the same thing the old print Yellow Pages did – serve as a comprehensive directory to easily locate businesses and service providers.
Getting Started with the YP Local Ad Network
Using the YP Local Ad Network to promote your carpet cleaning or disaster restoration business is easy and free. To get started follow the steps below:
First you will need to join the YP network. Do this by visiting the YP home page, clicking the Join link in the upper right-hand corner of the screen and following the steps.
Then, click on Advertise with us, which will take you to this page.
Follow the prompts to fill out your business' information. Make sure that the address and phone number you use are consistent with the one listed on your other local listing sites, such as Yahoo! Local Listings and Google Plus Local. Fill in your email and Website addresses.
Next you will be able to add in photos or videos. The YP Local Ad Network doesn't allow logos or branded photos, so keep things simple with some nice clean shots of the exterior and interiors of your business. Adding in a photo of yourself and your work truck are also good ideas.
The following category is "Business Details." Here you can include your hours, categorize your business to maximize search results, and list your services and accepted payment methods. You can also include additional business information under "Amenities" and "General Info." Use these categories to give additional information about your company, such as how long you have been in business and what sets you apart from other carpet cleaning or restoration businesses.
Finally, you can add any coupons to your listing to attract potential customers.
You are done and ready to submit your entry to the YP Local Ad Network.
Why Should my Business Use the YP Local Ad Network?
The Yellow Pages have been a huge part of how consumers find service providers for decades. Although they are behind Yahoo! and Google when it comes to the amount of users using their search engines, they are still a powerful tool for businesses. The YP Local Ad Network is especially effective with an older demographic who feels comfortable with using a directory company that they have been familiar with since long before they got online.
Benefits to using YP.com to list your business are:
Your company will be visible to consumers searching in your area online.
YP.com also has a great mobile version, meaning you'll easily reach consumers using their smart phones or tablets to look for carpet cleaners.
A free listing lets you tell customers what your operating hours are, where you are located and what payment options you offer.
Contact information is clearly presented, making it easy for potential customers to contact you directly.
YP Local Ad Network also offers a free coupon tool for you to create attractive promotions.
What are the Cons of the YP Local Ad Network?
Again, with the free listing version there are few to no cons. Paying for the upgraded listing isn't worth your money, but by all means, take the time to set up the free one.
Is the YP Local Ad Network Worth my Time?
The YP Local Ad Network is certainly worth your time. It may not be as popular as other Local Ad Networks, but it is still a trusted name among business directories, both online and off. Setting up an account doesn't take much time, is free, and serves to create another all important virtual signpost for your business.
Do you use the YP Local Ad Network? Tell us about your company's experience in the comments section below.
Your SFS Team