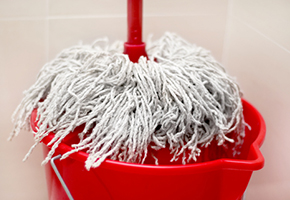 All customers tend to make their "value decision" based on how they FEEL about the person doing the work. And nothing introduces "bad feelings" faster than a technician who appears as it they don't care.
Yep, displaying an "attitude of care and concern" is essential if you are going to "Make the Cheerleader". (Or even just avoid a complaint!)
But attitude will only carry you so far. Customers (and your employees) appreciate specific "Moment of Truth" actions such as…
Always protect your customer's hard surface floors. For example…
1) Put down a drop cloth. These can be disposable drops or the heavy painter canvas drops painters use.
2) Place a door mat and carefully wipe your feet before entering the job. (This one works on all floors.)
3) Always place an absorbent "bath mat" at transition points from damp carpets.
4) Carry a micro-fiber mop and just automatically "touch up" your client's hard surface floors as you finish. (Even if they say "Oh, you don't need to do that!")
Restoration HINT: Especially with those nasty (but oh so profitable!) CAT 3 sewage losses use disposable, absorbent drop cloths.
Commercial HINT: Be especially careful with slip-and-fall hazards with your account's customers. Always place warning signs and keep your hoses under control.
NOTE: How can you make many of your hard surface floors concerns go away? Carefully consider the many advantages of encapsulation cleaning technology!
Steve