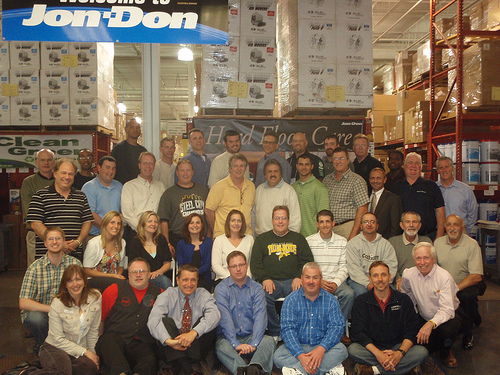 Cleaning professionals from all over the northeast part of the United States and Canada dedicated 5 entire days to improving their carpet cleaning and restoration businesses. Instead of focusing on just equipment and supplies, they dug down deep into essential business practices and their application for the cleaning industry. They had a lot of fun doing it.

But having fun isn't enough. Five days is a lot of time to invest. Was it worth it? Consider what the seminar attendees have to say …
"Chuck Violand is top notch. He has a good rapport with the class and takes time to answer questions. His information is so valuable and will pay you back many times over. So good I'm back again and I was here only six months ago!"

Meg Burdick, Burdick's Cleaning
Chalfont, PA
Six months ago, Meg? What? Are you a slow learner? 🙂 Seriously, folks, I hope you learn from Meg! She came back to SFS because you always learn AND implement more on subsequent trips PLUS Meg brought back John this time. I'm sure they will be an even more formidable team now that John is on board with Value Added Service concepts! Don't forget, follow the Burdick's exploits with Meg's periodic dispatches from "down in the trenches".
"Chuck Violand was exceptional, dynamic, timely and very inclusive. I realized I didn't know what I needed to be successful instead of just being a 'survivalist'! SFS encouraged me to take a good hard look at the difference between survival and success. The 'Moments of Truth' Jon-Don provided were unanticipated and very appreciated and I thank you for your generosity!"

John Creamer, Custom Carpet Cleaning, Inc.
Norristown, PA
I feel privileged to have Chuck on our SFS team. He takes some very dry but oh-so-needed subjects like "the financials" and hiring and makes them exciting and inclusive. Plus Chuck does all the heavy lifting on Day One of getting you all focused and working together as a class.
"Bill Yeadon took his personal time to look at marketing material we were developing and gave me some personal and very pertinent feedback. Thanks, Bill! "

John Creamer
Bill's generosity is exceeded only by his humility! He is our newest SFS team member but has rapidly become essential for his encyclopedic knowledge of marketing. (Not to mention that Big Billy has forgotten more about technical stuff than I have ever known!) And John and I are not the only people impressed with Bill …
"Bill's stature in the industry makes him a giant in the industry."

Ken DeMelis, Get Totally Floored
Norristown, PA
You are absolutely right, Ken. And don't forget that Bill writes exclusively for StrategiesForSuccess.com You can read Bill's hundreds of "book reports" and musings on marketing free every week by clicking though on your new quickTIPS!
"SFS was much more than I expected. It was very well thought out and implemented. Strategies was not only educational- it had a 'fun factor' with good food too! Chuck, Bill and Steve were great as were Nick and Angela too! Plus I was in attendance with a great group of professionals."

Ed Bright, Ray's Carpet Cleaning
Philadelphia, PA
I'm pleased to see that you included Nick and Angela in your praise, Ed. SFS is very much a team effort. Angela slaves away tirelessly in the background making sure every SFS attendee has a "seamless" experience and Nick … well what can you say about Nick except thank you! Thanks Nick for making SFS possible plus enlivening the seminar with your presence!
"Strategies for Success radically changes the future of SFS member's lives who then impact other lives and the world moves forward for the better. I am sure it is pure pleasure to 'take out the chaos and restore the smoothness' in the lives of so many of us 'hard to tame' entrepreneurs. Thank you for making an impact in our lives!"

Con and Maria Schultz, Crystal Clean LTD
Lethbridge, Alberta
Thank you, Con. Yes, it certainly has been "pure please" for your SFS teamhelping to "tame" you (actually Maria assisted in this!)and watch you and Maria achieve your dreams. I'll be interested to see where the two of you decide to take Crystal Clean after our week together. Thank you in advance for your support.
"I would recommend SFS to everyone! Quite honestly my degree in management and marketing doesn't compare to the wealth of information I have received over the past week! My sincere gratitude to Nick and Jon-Don. As long as I am in the restoration industry Jon-Don will be our supplier."

Amy Gilman, Rainbow International
Springville, PA
Thank you, Amy. (By the way, I appreciate you letting me "invade your personal space"!) It was obvious to me that your degree in management was being put to the use during the seminar. However, the great thing about SFS is that we give you targeted, specific information from down in the trenches. Now it is time to go to work!