So who do you want sailing with you in dangerous and very choppy small business conditions?  Obviously the very best crew out there!  However, your cleaning employees likely feel the same way about wanting the very best in a skipper that they have entrusted with their families' economic future and security!  (As Steve tells us in the Strategies for Success seminar, "The fish rots from the head down!")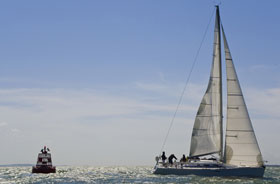 In his book Leaders at All Levels, author and management expert Ram Charan states that leadership "is a leading indicator of a company's (future) prospects, unlike financial results, which tell you only where the company has already been. Strong leadership makes a good cleaning company better just as surely as weak leadership lowers its prospects and over time ruins it."
However, getting the right crew on the boat (or as author Jim Collins likes to say, "Getting the right people in the right seats on the right bus") is only the essential first step. Got good people!  Great!  But don't get complacent!  We make a big mistake when we think that just because we've got competent people on board they don't need any further development, or they don't need to be managed.
Developing your people. One of the most important jobs of every business manager—and possibly the one that defines true business leadership—is developing and guiding the people who report to him. Whether you're a solo operator carpet cleaner grooming someone to replace you in the field, a restoration business owner developing managers in your company, or a mold remediation division manager growing your direct employees under you, your job is to develop your successors.
Now, consider how the job of training and developing your people progresses as you move from working with "doers" to "thinkers" to "advisors." It's the rare entrepreneur who doesn't quickly exceed his own areas of expertise as he works with higher level people. This fact becomes even more evident when he's working with people in business functions he may be completely unfamiliar with—functions like finance, marketing, or human resources. Now the carpet cleaning entrepreneur must normally rely on outside sources to provide training in these areas. Letting outside people guide your ship is a scary scenario indeed.
Managing your people. As our businesses grow, and we hire and develop increasingly talented people, it becomes more and more important for us to hold our people accountable for producing the results we've hired them to deliver in their positions.  (And yes, the ever prolific Steve Toburen has produced a great Special Report on Adding Employee Accountability in Your Company. Even better, the download is free!)  When our cleaning companies were small, if an employee wasn't performing up to snuff, we could always jump in and pick up his slack ourselves. Too often, that's exactly what I did in my company! (Ah, nostagia!)
But here is the danger.  When we repeatedly "cut our people slack", we run the risk of establishing a pattern of poor performance tolerance that in time becomes part of our company culture. Sure, you can get away with this in a small cleaning/restoration operation.  But "poor performance tolerance" doesn't work in a larger company. Not only can you no longer jump in and pick up somebody's slack, but now lots of other people are on the crew, watching this behavior and gauging their own performance against it. Now the really good ones are trying to determine just how serious you as the skipper are about winning the boat race, and whether this is the same ship or company they hired into.
Add to this the fact that in larger businesses, just as with yachts and tall ships, things happen much faster. So, where poor performance or poor decision making might not have been fatal in a small cleaning business, they can sink you very quickly in larger ones. As one business owner I know once commented, "Every business is just three bad decisions away from failure."  Are you focused yet on the need to develop your crew?  Of course, as I write these words I realize the most important person to "develop" is the skipper of the ship- YOU.  Maybe I'll explore this uncomfortable subject the next time I drop in …
(Next in series: 3 hints on how to safely "captain" a larger cleaning/restoration business …)
Chuck Violand (more about Chuck)
SFS Instructor
CEO Violand Management Associates