Dave Mason, of the group Traffic, wrote the rock song World in Changes well before the current economic downturn. The 30+ year old lyrics seem to be more appropriate today than ever before: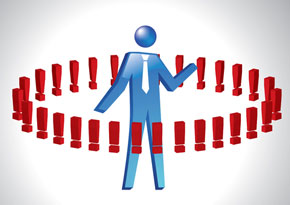 Things would be lazy if they weren't so crazy
And I wasn't followin' you
Runnin' in circles don't find me no purpose
It's right here with you and what I do.
I doubt Dave was thinking about carpet cleaning or disaster restoration when he sat down with pen in hand! But let's face it- the average consumer we service today has made major changes in his or her lifestyle. The recent economic downturn has caused people to reevaluate what is important in life. Everyone has retrenched with their families into their warm, safe, secure homes. With NetFlix being streamed straight to our TV's we don't even need to leave home to go to Blockbuster. This is similar to the "cocooning" of a decade ago.
Contrary to reports, customers are looking more for "value" than ONLY a cheap cleaning price.  Remember the definition of value is "the difference between what the customer expects and what she receives". (This "expectation gulf" is especially important when it comes to the buying of a service versus manufactured goods.)
Remember that your customer is looking at  their service providers and how they give back to the community. In a recent article in the Harvard Business Review, Nancy Koehn wrote:
"We are using tools at our disposal to save more but also to discern which companies and brands are worthy of our loyalty, and establishing notions of value distinct from those that prevailed for the past decade.

This means that households will research not only the price and attributes of product or service, but also in many cases the larger story behind it—where did the offering come from, what kind of company created it, how their are employees treated."
Due to sites such as Facebook, Twitter, Yelp, Angies List and other social and consumer review sites, EVERYTHING you do good or bad, is broadcast to the world. (Trust me, the Yellow Pages are dead– they just don't know it yet!)
Steve Toburen reminds you in the Strategies for Success seminar that your cleaning customers will see you (or your techs) outside their homes in the real world. So your image can be affected even when you are "on your own time". This can be good if your clients see you helping the community by coaching Little League, working on food drives, or cleaning the local battered women's shelter for free. But it is bad if they see your cleaning business trucks parked outside the local strip club after work!
Take a good hard look at your company and the image you and your technicians portray. Jon-Don offers a variety of training courses and educational materials to help bring consciousness of these issues to your entire workforce. (See the excellent Science of Value Added Carpet Cleaning training DVD.)
Dave Mason was right in that the world is changing. Understand these changes and provide that "extra value" not only to your cleaning customers but to the community at large.  Not only will your PR be better with this "giving back" philosophy, you will feel good about yourself too!  After all, it is the right thing to do!