Some smart restorer had to think of it first: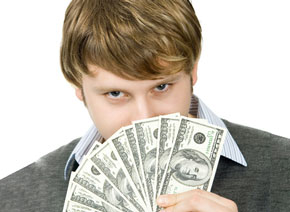 "Instead of me waiting and begging/groveling for the adjuster to call me on a loss why not beat the insurance company to the punch? I know!  I'll bypass the agent and adjuster by getting the plumber to refer me directly to the home owner!"  (After all, who sees a flooded home sooner than the plumber???)
This proactive approach was absolute genius … UNTIL the Law of Supply and Demand caught up!  (And the "copy cat" marketing approach so common in the restoration industry kicked in!)
You see, now every plumber is approached almost daily by restorers with offers of cash for every water loss referral. The problem with this scenario is you have no "strategic advantage" or what I call Leverage! (Check out my previous post on "Plumber Leverage").
The problem is obvious.  After all, if you are paying out $250 per referral then what will stop your plumber from switching to your competitor who is offering $300?  So my company doesn't pay cash rewards for referrals.  Why not?
Thanks for asking! Here's why we don't pay cash for referrals at Aero-Dry.  A) It's just not healthy for your bottom line to be paying out large amounts of cash for a referral. And B) if anything the plumber should be paying YOU cash since you are in thousands of homes and offices every year so you are in a position to refer THEM.  Plus C) you can "leverage" your business knowledge to help your plumber friend become more successful in business.  (Which is worth a lot more to the plumber than a cheesy cash kickback!)
Remember that a plumber is an entrepreneur much like you and in a service business much like yours! So you must analyze what are the needs, dreams, and obligations of a plumber AND how you can help him find the same success you have! (I think this is what Steve Toburen calls "developing Strategic Partners"!)
So here are a few plumber "needs, dreams, and obligations" candidates:  (in no particular order)
Needs to grow his or her business
Wants to provide a secure, friendly working environment for their employees
Needs to have systems in place to improve efficiency
Needs a succession plan for the day they retire
Wants to be liked and respected
Needs (desperately) to earn more income
Wants to improve their customer service
Need (urgently) better marketing ideas that will help him or her to stand out
NOTE: We always approach our plumber marketing efforts with the concept of "How Can We Serve As An Extension Of Your Customer Service Team?" plus "How can we help you become more successful?"  (Kind of sounds like Jon-Don's philosophy with their clients and the SFS program!)  So ask yourself …
What have I implemented in my business that can be shared with my referring plumber?
NOTE:  Remember that plumbers are about as interested in the equipment and big truck mounts you employ as you are interested in the type of joint solder they use!  BORING!  So stay focused on how you can serve as an extension of their customer service team or as Chuck Violand says answering your plumber's question, "WIIFM?" ("What's In It For Me"?)
Here's some "mutual advantage" Leverage Ideas for your prospective plumber "Strategic Partner":
1.       Have you perfected a scheduling system that has given your cleaning company a competitive advantage?  Can you share it with your plumber prospect?
2.       Can you give your plumber a Customer Referral System that works well for you? What about any other valuable marketing tips/concepts?
3.       Do you use shoe covers when you enter a customer property to protect their floor coverings?  (And to create Positive Moments of Truth!)  If so, give him some shoe covers to test and see if his jobs run smoother.  (They will!)
NOTE:  SFS graduates literally have 100's of positive Moments of Truth ideas listed in their SFS Class workbooks.  Most of these tips with a little modifying will also help your new plumber "Strategic Partner" and you can start Leveraging your relationship.
Putting your plan together
Once you have determined the geographical area that you intend to serve, compile a Plumbers Prospect List.  Focus your Leverage efforts on the plumbers that meet at least two of the criteria below:
Plumbers who offer 24 hour service
Plumbers who only offer 8-5 service
Plumbers who offer HVAC service along with plumbing services
Plumbers who answer telephones live
Now that you have this prospect list it is time to LEVERAGE!  In a future post I'll get down in the trenches with exactly how we do this at Aero-Dry and share two great forms to get your Leverage Program off the ground!
Ivan
Ivan Turner is the CEO of ShowMe Marketing Solutions. ShowMe Marketing helps cleaning & restoration companies grow in a very competitive industry. Ivan has authored two books- Marketing to Agents & Adjusters, Plumbers and Building a Successful Cleaning & Restoration Business and has been published in "Millionaire Blueprints" and "ICS" magazine. ShowMe Marketing also offers a comprehensive Employee Policy Manual package that can be customized to fit your business. Contact Ivan at (573) 291-0234 or check out showmemarketingsolutions.com