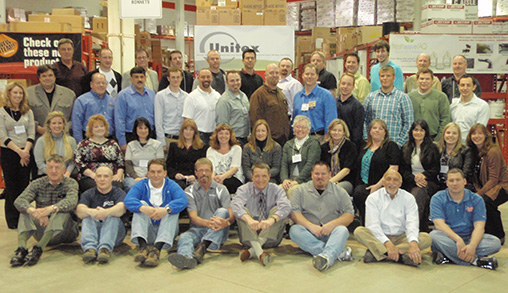 Check out these comments from this recent Strategies for Success class held at Jon-Don's Chicago store in Roselle. Chuck, Bill and Steve shared tried and proven business insights applicable to any cleaning business market. (And there was some great networking going in to!)  A wise investment AND a lot of fun with Papa Nick Paolella!
If other companies want their business to grow wisely, this is a must. We continually recommend this class. The Financial and Profit Potential section was very valuable. If you don't understand your financials you will flounder in growth. I appreciated the balance between carpet cleaning and restoration. We have recommended Strategies to many other companies thru the past 6 years. Even to owners in other industries that we work with. Those who don't make the commitment of time & money lose so much!!

Donna Nelson
Nelson Clean Care
Highly recommend for any size company. I wish we would have done this when we first started our company.

Kevin Nelson
Nelson Clean Care
I would tell others that if you don't attend SFS, you are probably going to fail.

Jay Cricks
NorthStar Cleaning
Great seminar! I will recommend this seminar!! I wish I could send more people from my company to attend SFS.

Elena Mirchef
Cleanway Maintenance Inc.
Any portion of the SFS program that you put in place will increase your income, customer retention and employee effectiveness. I was glad I invested the time to attend SFS.

Mark Gibson
Chet's Cleaning Inc.
This seminar would be excellent for anyone interested in developing a successful business.

Ray Harris
American Dream
I would recommend SFS because even if you are only able to implement some of the wonderful ideas, they will make a positive difference.

Penny Howlett
Elite Cleaning
Steve is very informed and keeps up on current issues. He makes the subjects fun and interesting. I think that everyone that is in business or every manager for a business should have and use a course like this.

Christi Williams
RC Cleaning
It was a very eye opening class. I learned way more genius information than I thought I would. It is well worth the money and I would recommend it to anyone.

Taylor Capeman
Xtreme Cleaning & Restoration
I felt the Strategies for Success class was excellent. I will recomend the class and will reattend again in the future.

Ron Brown
Rainbow International