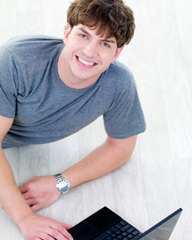 Tell the truth now … how many of you thought this article was about monster trucks slogging through a muddy quagmire? Gotcha, didn't I?
For those of you that actually have a life and don't stare at a computer monitor for 22 hours a day, a blog is short for "weblog".  Over 605,370 new blog posts are created everyday. These can be written by a 12-year-old girl discussing her favorite rock group, a political pundit pushing his political agenda or Tom Peters ranting about customer service.
I still love and revere books and if truth be told, books are what I prefer to review here in my little section of SFS.JonDon.com  But the information in even a brand new book is already at least a year old when it hits the book stores. In the Internet age even three months is an eternity.
Blogs, on the other hand, are immediate and even better- are "interactive" since they draw in other opinions. (This interactivity can be very powerful for your marketing efforts.)  If you choose the right blogs to read you will be right in the middle of some great discussions concerning how to generate more customers.
The fact that the conversation is not about carpet cleaning or water damage is irrelevant. All your best marketing ideas will normally come from outside of our industry. Why? Because you want to be different!  (As Steve Toburen says, all too often the carpet cleaning industry plays a game of "follow the follower".)
When you stumble across an thought-provoking blog the author will also have linked to his or her own favorite sites.  This gives you a cross-section of great web resources by just "following the chain". Here are a few of my favorite sites: (As of this writing. I'm still searching and I suggest you do also.)
Michele Miller at Wonder Branding– Michele's blog focuses on feminine values in marketing – critically important since women account for 80% of consumer purchases. Her recommended book list makes this site incredible.
Tom Peters at Tom Peters Dispatches Blog– Tom is acknowledged as one of the top three management and marketing gurus in history. His posts and "rants" are never boring.
Seth Godin at Seth's Blog– Seth Godin is one of the most prolific authors of marketing material and the man who coined the phrase "viral marketing".
Fast Company Magazine– Fast Company has always been a trail blazer in the publishing business and its blog authors is a list of who's who in the marketing field.
Small Business Trends– As the title implies this is information that can be very helpful to companies that face problems unique to smaller firms.
David B. Wolfe at Ageless Marketing– I include this blog because it focuses on aging baby boomers. Most advertising material misses the mark on this market. Yet this is the age demographic most suited to residential services such as carpet cleaning. David absolutely nails the information that can reach this group.
Tom Asaker– Tom's wide-ranging blog is especially sensitive to the role of emotions in consumer behavior. As you learn in SFS, consumers buy based on EMOTIONS and then after buying justify their purchase on LOGIC.
Ben McConnell & Jackie Huba at Church of the Customer Blog– Their book Creating Customers Evangelists: How Loyal Customers Become a Volunteer Sales Force could have been taken straight from Strategies for Success. This blog will help you keep your focus in the right place.
John Jantsch at Small Business Marketing Blog from Duct Tape Marketing– I thoroughly enjoyed Mr. Jantsch's book (as I reviewed some month's back) and greatly admire his zeal for bringing big business marketing down to the level of us on the front lines of small business.
Guy Kawasaki at How to Change the World– With a title like that what else can I say? Guy has a penchant for "outside the box" thinking; and it works. The experience he gained working at Apple coupled with his own love affair with all things marketing related make for an explosive combination. Put his insights to work for you and you'll find new ideas of your own.
reveries.com– While not really a blog this is a great daily e-mail and feed that searches the world media for interesting marketing articles. This one is just pure fun.
Each of these blogs can be set up so that you receive an e-mail anytime a new article is posted, or you can just browse the sites at your convenience. My favorite method to keep up to date on what my favorite bloggers post is by using a "blog reader".  Google Reader and Bloglines Reader are two popular blog aggregators that allow you to join all your favorite blogs in one place for easy reading of new articles as they come available. In fact, you can use a blog reader like the aforementioned to subscribe to our very own SFS website.  (All these blogs and websites provide their feed of new information via a technology called RSS but that is unneeded technical complication for this post.)
The only "problem" with subscribing to blogs is that  you can easily spend a few hours just soaking up great information on just one site and blow off doing the work that will actually bring in dollars!  So, as in all things, balance is needed.
Spend the right amount of time on these blogs and soon you will develop marketing that is truly different from the me-too advertising that is sadly so prevalent in our industry.
If you would like to know more about other blogs (or even better have a great one I can check out) please comment below.  My thanks in advance for your suggestions.
Bill