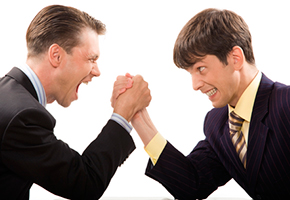 Authors Al Reis and Jack Trout tell a story in their book Positioning about General Electric that resonated for me with my small business clients…
Many years ago two hard working business managers had their eye on the top job at General Electric. One was named Smith. The other was named Jones.
Smith was your typical "can do" corporate executive. So when he was given GE's computer operation to run he accepted the assignment with relish.
Jones, on the other hand, was realistic. He knew that GE hadn't gotten into the computer business early enough to dominate it. At that late stage of the game it was going to cost the company too much to catch up to IBM…if it ever could.
After Smith failed to turn the computer business around Jones got a chance to participate. He recommended that General Electric get out of the computer business which it eventually did by selling the operation to Honeywell.
That's just one reason why Reginald H. Jones was promoted to CEO of General Electric! And J. Stanford Smith wound up at International Paper.
As the owners of small businesses one of our jobs is to constantly evaluate the profitability of the products or services we sell. Our task is to find ways to shrink the costs of providing our services AND increase our profit margins. But sometimes, simply finding more cost effective ways to deliver a service isn't good enough. Sometimes, no matter how efficiently we deliver a service, the margins still aren't good enough to justify continuing to offer the service.
So to avoid the same error J. Stanford Smith made at GE constantly ask yourself two questions to help determine the viability of your different services:
1. Why do we continue to offer this service? Sometimes the reasons we offer a particular service is more a matter of habit or emotional attachment than it is profitability. We might continue to offer a service because we offered it when we started our business and we carry a sentimental attachment to it. But now, no matter how much you squeeze the numbers you simply can't make it profitable. Is it time to say goodbye?
Or, maybe it's a service you personally enjoyed performing when you were the only one performing it. But, now that you have other people performing the service, maybe it's time to re-evaluate its value to your company.
Either way, Steve Toburen's famous saying from the SFS seminar applies:  "Run your company based on the emotions of your customers.  But NEVER make your business decisions emotionally."
2. Does this service integrate well with our other services? Businesses evolve and mature over time. We may have added a service some time ago because it was a hot new service that our customers demanded. But, over time customer demand for that service has eroded to the point where it no longer makes economic sense. Is it could be time to gracefully drop it?
So, since we are (more or less) at the halfway point on the year this might be a good time to evaluate the viability of the services you offer. And, rather than asking yourself how you can perform this service better- maybe you should ask "Should I be offering this service at all?"
Chuck Violand (more about Chuck)
SFS Instructor
CEO Violand Management Associates