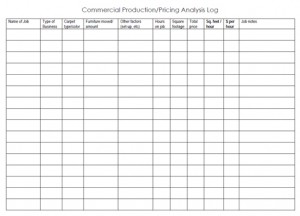 These words have been uttered countless times by carpet cleaners, "How much should I charge for this commercial job… ?"
The simple answer is: Charge enough to cover your costs and make you a nice (great?) profit.
So in short, you have to know your TRUE COSTS before you can calculate how much to charge in commercial cleaning.
This simple form will help you gather the information you need to start nailing down your true production costs per hour in commercial cleaning.
Steve
Click below for a free and easy download of this Commercial Production/Pricing Analysis Log!
Production/Pricing Analysis Log (16943 downloads)