We preach at SFS to constantly be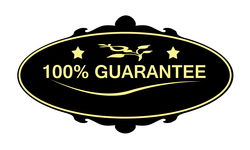 "looking through your Customer's Eyeglasses."  So check out our industry (and your company) through your prospective customer's eyes. What do you see?
Its not a pretty picture! As your first-time customer waits for your tech they are suspicious, intimidated and very, very afraid. And FEAR is never a good start to any relationship!
NOTE: Can you blame your average nervous first-time customer? The cleaning and restoration industry has had more than its share of horror stories! (Not all of your fellow entrepreneurs are as ethical as you are!)
So you must "differentiate" your company from your competition. You will set your business clearly apart from the rest when you …
Offer a no-questions-asked guarantee! (And honor it CHEERFULLY!)
That's right- no conditions, no fine print and please, no attorney legalese! My guarantee simply read: "You will be delighted with your home's cleaning. If not, we will happily re-do your concerns. If you are still not happy we will cheerfully refund your money!"
NOTE: Worried about being taken advantage of? In my 20 years "down in the trenches" I refunded money to only four customers! (I didn't want to work for these four losers anyway! And yes, I did it "cheerfully"! GRRRR!)
Always treat disgruntled clients with "kid gloves". Why? Because online reviews are a two-edged sword! And you don't want any bitter, resentful customers pounding out their anger on their keyboard! This is why you should do Immediate Quality Check calls!
You'll note the "You will be delighted" guarantee above is for residential clients only. I wasn't brave enough to offer a "we will cheerfully refund your money" on a 9,000.00 water loss! But you don't want the insured complaining to the adjuster either! So implement our free SFS Restoration "Moment of Truth" Checklist.
Restoration HINT: As you end your first walk-through with the insured simply say "I'm writing my personal cell number on the back of my card. If you have any concerns please call me 24 hours a day- not your adjuster or agent." And stay in contact with your insured at least daily.
Commercial HINT: Property and facility managers crave a cleaning company that will deliver them a "drama free life"! (No screaming calls from upset tenants.) So give your large commercial tenants an easy, no-confrontation way to contact you BEFORE they make an angry call to their PM. (This idea works great with insureds too!) Remember, you want to "blend into the woodwork" on large commercial contracts.
Steve