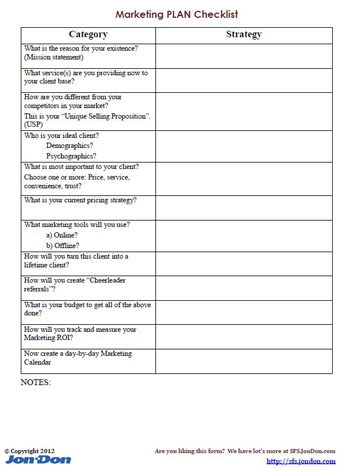 Your marketing program has to "fit" your goals.  Your marketing PLAN must factor in local demographics, your chosen company image and of course local competition.  You must also include how your business will help you achieve your long term Life Goals.  In other words…
While all marketing programs share common principles they each need to be tailored to YOU!  To help you the SFS team has created a Marketing Plan Checklist. Filling out this list is the first step toward something that 92% of your competition doesn't have – a Marketing PLAN!
Bill Yeadon
Download "Marketing Plan Checklist"

quickFIX-RESIDENTIAL-marketing-plan-checklist.pdf – Downloaded 4770 times – 238.21 KB
A NOTE FROM STEVE: Folks, you're being given marketing advice from one of the best consultants out there- for FREE! All you have to do is follow through!  So PUHLEEEEASE take advantage of Big Billy!