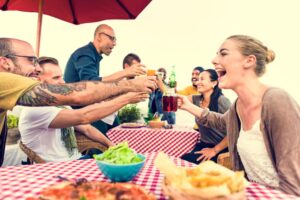 Simply put, people hire on with you to make money and feed their family. But assuming that your pay scale is competitive, your employees will stay long term based on emotional factors …
To promote and foster the all important family feeling with our employees, we try to involve everyone in the company in some type of extracurricular activity.
We have company sponsored events such as picnics, fishing tournaments, softball leagues and (the biggest idea most recently done) a paintball team. The employees really seem to love this one! We have T-shirts printed up for everyone in these different events. Try to make them memorable and special.
Who can argue on this concept? Employees stay because they feel part of a family and families play together. Even though I will say you've got a lot of courage going out on a paintball team made up of your employees. Can you be "fragged" by a paintball? (I also like the recognition and exclusivity given by the custom printed T-shirts.)
Steve
P.S. One gentle request. Remember that this free QuickTIPS service depends on all our members sharing their Techniques, Ideas, Procedures and Systems. (Cute acronym, huh?) So please, drop us a line at sfs@StrategiesForSuccess.com or go to our on line form to submit your quickTIPS