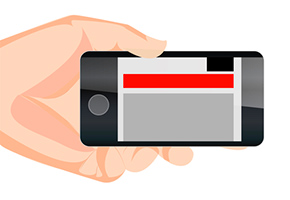 Feeling a little overwhelmed with the idea of making your own mobile website? You can always hire it out to an expert, and in some cases you may have to. (We recently highlighted the importance of mobile websites and provided some tips on how to make it happen.) However, if you, like many restoration and cleaning businesses, are running your site on WordPress you have a couple of easy options for scaling your site down to mobile view. Below you will find three solutions for WordPress users looking to make a mobile website.
WordPress Mobile Plugin Options:
WPTOUCH
– WPtouch works by stripping out your existing theme and displaying your website content and not much else on your mobile site. Download the free version and see if it works for your carpet cleaning site. After install, visit your site from a mobile device. If you like what you see, you can keep the free version or upgrade to the premium version which lets you modify the colors and add additional style features.
While this plugin is definitely easy to use, if your website isn't content centric, customers may not find what they are looking for when they visit.
WordPress Mobile Pack
– WordPress Mobile Pack can be used to change your theme for mobile devices. It includes a mobile switcher that selects themes based on what type of viewer is visiting the site, device adaptation and a mobile admin page. It also includes mobile analystics and an automatic listing on mpexo, making it easier for mobile users to find your site. You can also make aesthetic modifications, like changing the themes colors. The key, of course, is testing the plugin out to see if it works for your website. If not, you can make edits right from the mobile device using the mobile admin page to create a mobile website that accurately represents your carpet cleaning company.
Themes for your Mobile Site:
If these types of plugins aren't appealing to you, you might consider switching over to a mobile theme. WordPress' default theme since version 3.0 is Twenty Eleven, a responsive theme that works on both mobile devices and the computer.
Other themes that can be used to support mobile sites are:
These themes all include a mobile or responsive style sheet. Responsive design means a theme that responds well to different screen sizes, including computers and mobile devices.
Creating a Responsive WordPress Theme
If you are up on your tech, and none of the above options particularly appeal to you, you can make your current theme responsive. Rather than bore you here with the details of how to do that, visit Blissful Interfaces for a tutorial on how to build a responsive WordPress theme.
Having a mobile website is just as important as having a regular website – so get started in creating yours today. We at SFS are in the process of doing the very same thing.
Have you set up your mobile website yet? Share tips with our readers in the comments section below.