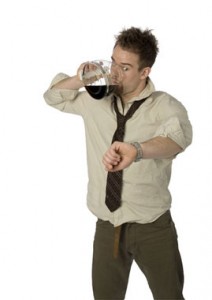 Hey folks, Jeff Cutshall here.
I'm Jon-Don's "Value Added Service for Technician's" (VAST)* seminar coordinator plus I am an IICRC approved instructor presenting a host of different seminars for Jon-Don.  I haven't chimed in here as often as I should and I'll try to improve.  (My excuse is that I'm on the road a lot more than that slacker Steve Toburen!)
Burn-out is a common industry problem for both us as entrepreneurs and our employees.  Here is a humorous but sobering take on how to identify the signs of impending burn-out before you get slammed.  How many of these symptoms have you noted lately in your life?
#1 You used to eat out for lunch, now while cleaning your customer's couch you just rummage through it looking for leftovers.
#2 You've actually named your wand!
#3 You used to brag about 2-3 hour dry times. Now your jobs take two or three weeks to dry- and you don't care!
#4 When your customer asks you a question you tell them to just "mind your own business".
#5 When you make out an invoice you can't remember what year it is!
#6 Your new reply to a customer asking "how much will the job cost?" is, "Look lady, if you have to ask, you can't afford me"!
#7 You used to guarantee customer satisfaction, now you guarantee you'll show up sober!  (But only if the job starts before noon!)
#8 The last time you smiled was when your truck mount broke down so you could FINALLY get a day off!
#9 Your new marking strategy involves standing on a busy intersection with a hand-lettered cardboard sign that reads "Will clean carpets for food."
#10 You ask your customer: "Uhh, Mrs. Jones, since you are not doing anything anyway, would you mind pulling some hose?"
#11 You start using your handkerchief as a spotting towel OR vice-versa!
#12 You have Dr. Phil on your speed dial.
#13 The only "spotter" you carry on your truck is a pair of scissors.
#14 You confess to your customer, "My best friend ran off with my wife … and I still miss him!"
#15 A client asks you "how is it going?" and you burst into tears.
All of the above were offered in jest … or were they?  Hmmmm … maybe I better get focused and do a more serious post on burn-out!
Happy cleaning,
Jeff Cutshall
Jon-Don's VAST Coordinator
*Our "Value Added Service for Technicians" is actually a bit of a misnomer.  The VAST seminar is designed for ALL employees (and owners), not just technicians, of carpet cleaning companies to give a one day in-depth look at how to apply the SFS core concept of Value Added Service in their daily actions.  Companies that have sent employees to VAST (or sponsored me to come in and present one on-site) report much greater job satisfaction and morale among their employees and many more Cheerleaders than before the seminar.  For more information just e-mail me at jeffc@jondon.com or call me at 816-223-6659. In addition to VAST info on this website you can click here for even more details and our current class schedule.