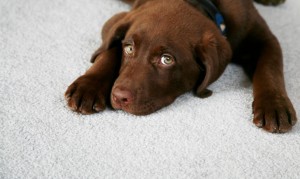 I had a customer call today only two days after her cleaning. I had given her a free bottle of Jon-Don's Spot Out spotter. (My customer's LOVE the FREE Spotter for Life program and so do I!) Anyways her dog vomited on her freshly cleaned beige nylon carpet and her husband puts the Spot Out on vomit. Now she claims that where he put the spot out, the carpet is not beige anymore, but "white". (She probably meant "lighter") I told her that the spotter is a Neutral ph, and can't discolor carpet, but the dog vomit is what actually did it. I'm going out there later to check it out. She's not necessarily angry and going after me at all, but I want to keep her happy. Can Spot Out do that?!! If by chance it did who is liable? Me, Jon-Don, or the custy (since she is the one who actually attempted the removal)?!
Thanks,
Just a bit confused here In Eugene
Whoa, confused! Now you're introducing a technical question into my BHC and as you know I'm not a technical guy. So let's invite a guest consultant in, Big Billy Yeadon, who has forgotten more about cleaning chemistry than most of us have ever known. Bill, you're up …
Dear Confused,
Bill here. It sounds like you are correct. Stomach acids from people or pets are very destructive and can bleach fabrics. Vomit has always been one of the materials that are not covered in a Stain Resist warranty such as Dupont Stainmaster and with good reason. In many cases the dog ate red dog food and then vomited which makes a nice red stain that is almost impossible to remove.

This may not even be a bleach spot, it may be just an over application of spotter which may have left a white residue that just needs to be rinsed. Spot Out as you mentioned is a neutral pH spotter which contains no reducers or oxidizers.

If the customer pushes the issue offer to use the same bottle of Spot Out on a scrap of the same carpet or in another area of the carpet and show that it will not bleach.

Hope this helps.
Big Billy Yeadon
Well, I'm back and as usual, Mr. Bill is right on target. You do need to test. BUT you will also need a "control" spot. So here is what you must do, Confused:
1. Find the dog.
2. Physically restrain it on top of a scrap of the same type of carpet.
3. (I recommend you glove up for this step.) Put your finger down the dog's throat to help it "produce" the same type of spot as before.
4. If you are now missing a finger, remove the glove, wash your hands and put a finger from the other hand down your own throat. My guess is your "product" will not be all that different chemically from the dogs.
5. NOW that you have a control spot from either the dog (preferably!) or you, now you can show the home owner that it was not the spotter but rather the vomit that caused the bleaching action.
No gushing thanks necessary, guys. I'm just delighted to help. 🙂
Thinking outside of the box here in the Dominican Republic,
Steve Toburen
Director of Training and technical advisor to the "guru", Mr. Bill Yeadon
Jon-Don's Strategies for Success
P.S. Seriously, Confused, it is possible that you're just dealing with a lot of whitish spotter residue. Rinse and do lots of handholding. (With the customer, not the dog.) My guess is you will wind up with a Turbo Cheerleader.
P.P.S. Even with the (very) occasional call like this one you will find the "Free Spotter for Life" program is one of the best marketing tactics out there. It was a huge boost to our business over the years.