The old saying, "Kill two birds with one stone" is so true in business. For example, your company needs vans or trucks to transport your staff and equipment. As you grow your company vehicles will be constantly seen parked and/or driving in your service area. So "kill two birds" by also…
Investing in business vehicle lettering will help 'build your brand' every single day! (It is a no-brainer that professionally designed, innovative and MEMORABLE van signage will always be one of your best marketing investments.) Of course…
To get the best ROI on your business vehicle wrap you need to 'do it right'.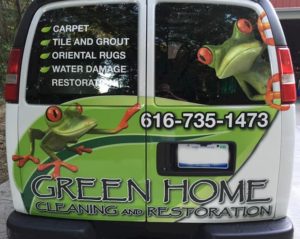 Here are a few basic 'moving billboard' principles:
A) Get professional design help on your logo and van signage. Over the years you'll invest huge money in marketing. The one common denominator? Your business name and logo! So make sure they are memorable and project your chosen image! Do you think people remember Brian Lerond's "Green Home" frog?

B) Build your brand based on one unique color. The very best strategy? Every company vehicle should be the same (unique) color. For example, Paul Barnett with Bulldog has chosen the color purple. NOTE: The bulldog logo (along with the purple and gold colors) comes from Paul's local high school team's mascot and uniforms! Even better, Paul tells us that the wealthy folks in his market are rabid fans! Or…

Mark Saiger with Saiger's Steam Clean loves the color blue so much he has adopted the branding tag line: "Bring on the blue"!
NOTE:  This custom color strategy may require a custom paint job (or a complete vehicle wrap) every time you add another van! Your fallback tactic if funds are low?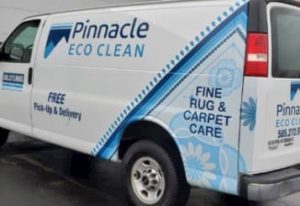 C) Get inventive and use your existing van color as a background. For example, go with easily available white vans and splash your logo (See 'A' above!) BIG and BRIGHT on every company vehicle. (You can always do a 'half wrap' when the funds become available.) Notice how Kevin Kluth with Pinnacle Eco Clean benefits from the white background of his vans. This means Kevin pays a small fraction of a full vehicle wrap with his 'partial wrap':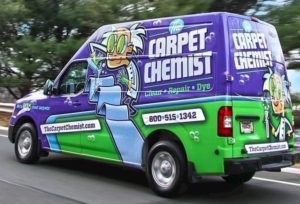 D) 'Less is more'. Remember that your 'moving billboard' will often be… MOVING! So your prospective customers won't remotely read all the print you've crammed on to your (moving) vehicle. Even worse, with a 'cluttered' van they won't even try!
Your goal? To impress on your prospect's mind a name (or even logo) that they will search for later on Google! For example, Brandon Cerrito just wants prospects to Google "Carpet Chemist Eminence KY"! (Try it and you'll see!)

Or Fernando Navarro with CE Floor Care in Hawthorne, CA is totally delighted to have prospective customers find him by searching with "CE Hawthorne, CA"!
So make your business name and logo by far the most visible feature on your vans. Then your services offered should be much smaller (these will likely be read when your vehicles are parked) and phone #/ website will be even smaller. (Once again, most people are just going to Google your business name.) Now do you see why you need a professional graphic designer? Which leads to my last point…
E) SPEND THE MONEY up front! Doubt me? Then refer back to 'A' above! Each of your company vehicles will literally be responsible for 1,000,000's of fleeting impressions on prospective customers over the years to come. Make sure they count!
Share your vehicle wrap photos and tips in our Strategies for Success: Growing Your Business Facebook group! You don't have to be a SFS graduate to benefit from our over 6,000 cleaning and restoration contractors so CLICK HERE to join us!
Steve