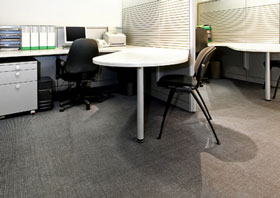 Do you think hot water extraction should be more expensive than cleaning by encapsulation?  I'm getting ready to bid a 3,000 sq/ft bank that has carpet that isn't that dirty and I know I could clean it a lot faster with our ProChem ProCap agitator than with my truck mount but I'm not sure if I should charge less. What is your take? Should I just talk to the customer about it?  Thanks,
Debating in Tampa
All other things being equal, Debating, hot water extraction (HWE) is more expensive to perform because of the productivity issue. (Plus your running costs will be less with encap because you are using the customer's electricity instead of your gasoline.)  But more importantly, you can clean with encapsulation technology at 2,000 square feet plus per hour (even more with the Cimex Cyclone) and HWE will be less than half that and some times much less depending on soiling levels.  Of course, your results may be different!
My belief is that your clients should not be as concerned with method of cleaning as with how it looks when you are done and how long it will stay that way. For that reason I think you should charge what is necessary to make a profit. (And all things being equal I always say having money is better than not having money so lets make it a LARGE profit!)
Think about this.  I don't ask the dentist which drill he is going to use. I just want the one that hurts the least and shortens the time he is using it! I consider the dentist the professional in his office and he should consider me the professional in mine.
So I seldom argued (or frankly even discussed) method with my commercial clients.  Instead, we focused on areas, soiling levels, traffic and cleaning frequencies. (Our conversation was guided by my Commercial Carpet Analysis form.)
In other words charge what you like. If you are competing against a HWE competitor and you want to underbid you can with encap. No competition?  Then you can still give a fair market price AND making a LOT more money. (This will even out the jobs where you didn't make as much!) This "pricing flexibility" is just one of the beautiful advantages of encapsulation technology.
Steve