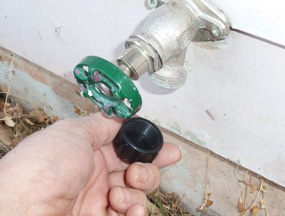 SURPRISE!  So-called  "freeze proof" water faucets will freeze and split internally if your customer has left their hose attached over the winter.
HOWEVER, this hidden internal rupture won't be noticed until AFTER an unsuspecting cleaner (like you!) hooks his machine up and turns on the faucet.  So while you are cleaning UPSTAIRS everything is being flooded DOWNSTAIRS!
Even though this is an "accident waiting to happen" we all know who gets the blame here! (Don't ask me how I learned this one!) Sooo…
Be very cautious early in the spring with all outside faucets. But ESPECIALLY with an outside hose bib with a hose that's been hooked up all winter!
So tweak your Spring time 'hose hooking up' procedures: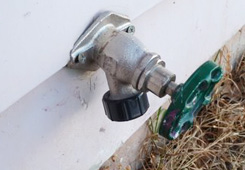 1. Buy a female cap with a rubber hose washer inside that will thread on any faucet bib.
2. Tighten the cap on the hose bib, briefly turn on the faucet slightly and listen closely. (You can also keep your hand on the faucet to feel the vibration of running water.)
3. If you can hear (or feel) running water the faucet has an hidden, 'internal rupture' inside the wall!
4. Turn the faucet off immediately, inform the homeowner of THEIR problem and find your water supply elsewhere.
Steve's Bone-headed Mistake: I did way too many 'freebie water damage losses' and replaced way too many hose faucets that the homeowner was just sure had "burst due to your cleaning pressure"!
Steve's Painfully Learned Solution: Carefully test all water faucets with your .99 hose cap until home owners eventually discover their split faucets on their own! (Usually when watering their lawn.)  After all, when your customer floods their own home it then becomes a PAID  water loss for you!
Lost your hose cap? Then just kink your water hose closed when turning the faucet on and… LISTEN CAREFULLY!
Steve
NOTE: You may not have flooded the customer's home … yet!  But we've all accidentally created a horror story out on the job.  So share your "tale of woe" in our Strategies for Success: Growing Your Business Facebook Group!
Simple little warnings like this one just might keep your business from plummeting to disaster. Now just imagine a new idea (or warning!) arriving every week! So if you're not already signed up for these weekly QuickTIPS, do so now.