[private]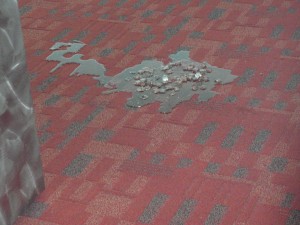 I was recently sitting in Denver airport waiting for my flight. A man dropped an entire large coke with ice cubes right in the middle of the terminal carpet. He stood there momentarily looking flustered and finally walked away, leaving a large mess.
About 15 minutes later a maintenance worker arrived with his yellow cart. He took out his broom and dustpan and swept the ice cubes into the pan. He then used his mop to absorb the remainder of the coke.  He placed a wet floor sign and left. For the next 45 minutes at least 20 people walked, stood on the spot, rolled carts and generally tracked the coke residue up and down the terminal.
In the next week a large spot and increased soiling will show up near the Southwest gates. Someone surely will  complain that carpet cannot be cleaned and it should be replaced with hard surfaces.
Just think if the drink had been spilled on tile it would have spread into a larger area and become a major slip and fall hazard.
Unfortunately the best attributes of carpet (absorbtion, sound deadening, comfort) also become problems when it is not properly maintained.[/private]