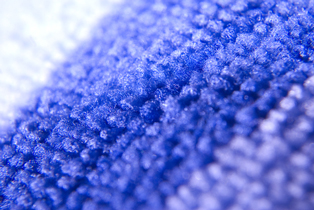 The good news? Americans are now recycling 30% of the 50 billion plus water bottles we consume every year! The not so good news? Much of this recycled plastic (polyethylene terephthalate/PET) is being turned into residential carpet!
You may say "Yeah but nylon is still the number 1 fiber." I would reply "Not for long! Last year 42% of all residential carpet was made of PET. Nylon was 46% of the total market AND slipping faster than your local department store's stock!"
Now before everyone decides to only clean hardwood flooring (which has its own issues!) let's study this polyester product that we will be cleaning every day.
First, you should know there is a big difference between the "pop bottle PET" fibers and the new Triexta PTT (polytrimethylene terephthalate) fiber sold under the brand name SmartStrand®. The PTT has proven to be more resilient than the less expensive PET. A PTT carpet with a good heavy face weight and construction is close to nylon in resiliency and superior in stain resistance due to its acid dye resistance.
To move away from the negative connotations PET has developed Mohawk Industries is rolling out a new process for PET called "Continuum". This process starts with a better polyester chip that has a higher molecular weight creating a better yarn. The yarn is scoured to remove the lubricant that most yarns have during yarn processing. When this lubricant is not removed, dark traffic areas develop rapidly. The last step is the application of Scotchgard Brand Advance Repel.
This new PET will not be available till possibly this month (May 2014) which means cleaners will not see much of it till at least 2015. So what is really going to change for cleaning? Good news! The new PET carpet should have less oily soiling due to the scouring and the factory Scotchgard application.
NOTE: The crushing and matting of current PET fibers has as much to do with the carpet construction and density as it does with the fiber's limitations. The cheaper the carpet the more likely crushing will occur and especially in traffic areas and in front of chairs.
As you inspect a home there is really no way to distinguish one polyester from another so here are your generic polyester fiber guidelines. Always follow the IICRC "Five Principles of Cleaning":
Pre-vacuuming
Soil suspension (including TACT- Temperature, Agitation, Chemical, Time.)
Extraction
Grooming
Drying
Now another fiber is SmartStrand® Silk™ which is created with a much finer denier (thickness of the filament). Consumers have reported vacuuming problems as the cheaper vacuums tend to sink into the pile rendering their vacuum useless! So a good commercial vacuum with adjustable heights and larger wheels will be a much-needed cleaning accessory.
A quality pre-conditioner with good solvency (Matrix Grand Slam boosted with Matrix Citrus Force ASD for oily traffic lanes) and agitation with a Strong Counter-Rotating-Brush Machine will suspend the soil so extraction is much easier. Polyester will withstand lots of heat so crank your truckmount up especially for the heavily soiled carpets.
Spotting should be easier as polyester resists acid dyes but still has an affinity for oils so a good POG such as Matrix Breakdown will be helpful.
Unfortunately some retailers have oversold the low maintenance of these carpets so consumers are surprised when you need to use detergents and spotters. Just explain to your customer, "The more frequently you have your carpet cleaned the less cleaning solutions we'll need." 
NOTE: A client with these health concerns is a perfect candidate for Steve Toburen's pre-paid, residential maintenance "Stay Beautiful" program. Get the details on how to set up your very own "Stay Beautiful" program HERE.
Creating partnerships with retailers and with your consumer will keep your phone ringing and your web site busy. Plus being able to explain about the type of carpet a home owner has purchased will help to build trust in your services. And then "go get 'em Tiger" using our SFS Moment of Truth Checklist!