[private]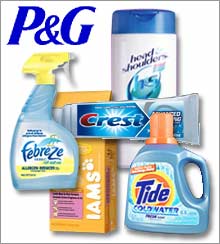 Procter & Gamble has been around for over 160 years. They are the largest consumer brand company in the world. They own the laundry detergent position and have for over 60 years ever since they developed Tide. Whole Foods dominates the healthy/gourmet food niche just as Starbucks owns the coffee market. Each of these companies have been battered by the economy and are being attacked by low end pricing.
Starbucks is fighting a multifront war against Dunkin Donuts and McDonalds while Whole Foods has seen their niche invaded by everyone from WalMart to Costco. Both of these companies suffer from self-induced wounds. The CEO of Whole Foods stated that they sell too much junk and Howard Schultz of Starbucks believes they have strayed from their core beliefs and opened themselves up to easy customer poaching by McDonalds. Both of these CEO's have recognized these problems and are taking drastic measures to return to their founding principles. P&G on the other hand is approaching a very slippery slope by cheapening the very product they are known for.
The new Tide product, called Tide Basic, is powdered, boxed, and contains less of "the anti-pilling and color-preservation technologies embedded in regular Tide." It was created using "the company's existing fragrances, whitening agents, stain-fighting enzymes and other technologies," and costs about 20 percent less. The packaging is yellow — not Tide's trademark orange — picked precisely because P&G hopes it will "discourage current Tide users" from trading down and cannibalizing sales. The question, of course, is whether Tide Basic will boost sales, damage Tide's brand equity, or both.
Discounting is a question that many carpet cleaning companies are deliberating. So the question for our readers: who do you think is heading in the right direction Starbucks and Whole Foods or that little old candle making company in Cincinnatti Procter & Gamble?  Please let us know. The winners will not be known for a year.[/private]