Ever get these phone calls: "Don't be mad at me, boss. But of the six air movers I brought to this loss two don't turn on at all and another one is sparking like crazy!" GRRRRR!
Constantly sending broken equipment back out into the field drove me into a teeth-gnashing, foaming-at-the-mount, foot stomping frenzy! But I finally learned it couldn't be "all about me"I (Or you as the owner or manager!)
Instead, you'll eventually have to develop the Business Infrastructure (systems and procedures) to "make things happen" without your constant ranting and raving! (OR you can go crazy!) A Core Document in your Critical Mass Business infrastructure will be…
A Production Day Sheet (PDS) that A) improves office-tech 2-way communication and B) gives your techs a Daily Load List of "non-inventory" items. Another PDS benefit is it helps…
Stop sending broken equipment back out into the field!
Here's how to do it…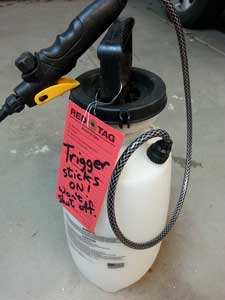 1. Tech writes specifies under the PDS "comments section" what item is broken and immediately "red tags" it in the truck.
2. Upon arrival at the shop the broken equipment is placed in the "to-be-repaired section". (NOT placed back in regular storage!) Then an Equipment Repair Sheet is filled out by the tech and turned in to the office with their PDS.
3. The office reviews the Repair Sheet, orders repair parts if needed and for simple tasks puts it in your part time Maintenance Tech's outbox.
4. If your Maintenance Tech can't fix it… hmm, what to do? Maybe this should be our next topic!
Steve