"Do you own a business… or just a job?" Yes, I know this question is a cliche. But don't dismiss it! Here's why- with a job if you "don't show up for work" you don't get paid! So now for an uncomfortable question…
What would happen in YOUR company if you suddenly "didn't show up for work"? Don't like your answer? Then isn't it time you focused on building a Critical Mass Business… a company that will run smoothly with you OR without you?
NOTE: Just hiring employees does not mean you own a Critical Mass Business. In fact, running a multi-truck cleaning or restoration company with an "owner-operator business model" truly is the "life from hell"! So…
Does each tech have their day laid out BEFORE they arrive at work with a stack of Job Folders holding all paperwork for each stop? Then clipped to the top folder there should be:
A Production Day Sheet detailing out their entire day.
CLICK HERE for a free instant download of the Production Day Sheet (PDS) I used.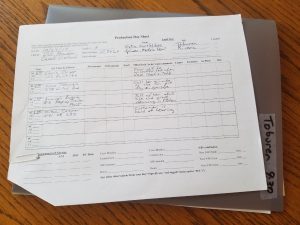 Your PDS should be a "core document" that improves office-tech communication. This improves efficiency and helps avoid negative customer Moments of Truth. Here's some PDS feature/benefits:
"Office Notes comments" section: Your techs can't comply with customer requests, details and /or cautions if they don't know about them! So for each job the office should write notes like "Lock the door when done", "See the neighbor for a key at…" or "Special caution with her flower beds", etc. These notes increase efficiency and avoid negative Moments of Truth.
"Tech comments" section: Techs should write down their observations/suggestions here. (Office/tech communication must be a "two-way street".)
CAUTION: I HATED being surprised in business. So the tech should call the office right away after leaving the job with any "customer issues" . Now your office staff will be forewarned before making the all-important Immediate Quality Check Call.
A Production Day Sheet will also dramatically increase your daily efficiency and net profits! CLICK HERE for PDS Part Two: Using a Daily Load List
Steve