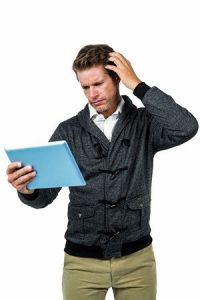 You did a "good job". Your customer appeared satisfied, paid you and off you went! Life is good…
UNTIL you see on Google and/or Angie's List, Yelp, etc that this same client left a slashing, nasty negative online review about the "good job" you just completed! AND they didn't even let you know they were unhappy! OUCH!
Take pro-active steps now to avoid being 'bushwhacked' with negative online reviews!
Why do supposedly happy customers post "surprise" negative online reviews? A) Online complaining feels 'safer' since face-to-face is 'adversarial' (I tell every SFS class that everyone is a tough guy hiding behind a keyboard) and B) 'Buyer's Remorse' is common with any service.
Remember, 96% of your "passively dissatisfied" clients won't contact you directly. instead, impulsively posting a negative review is a tempting way to vent. Your problem? A negative review can stick around "forever"!
So how can you avoid being "bushwhacked" online with bad reviews? OR even better motivate clients to post delighted Cheerleader reviews about your work?
1. Create a professional, friendly relationship over-the-phone. NOTE: Get permission to call them at work on their cell if they won't be there.)
2. Set "clear expectations" with this "How to Get Ready for Us" email.
3. Manage their Emotional Experience: "80% of how your customer decides if you did a good job or a bad job is based on how they FEEL about the person doing the work." Download a free, step-by-step "Moment of Truth" checklist HERE.
4. Do a final walk-through with your client qualifying any areas of concern. (Call them at work for an "over-the-phone walk-through" if you have permission.)
5. Have your office (or someone other than the tech) do an Immediate Quality Check Call right after leaving the job.
NOTE: I share all the procedures to implement an Immediate Quality Check system (including word-for-word) 'Phone Formats' in our 3-hour, online SFS: 'Winning over your caller'! LIVE seminars! Click HERE for upcoming dates or to learn more…
And if you do discover a 'surprise negative online review'? Immediately contact your client using my Emotional Judo technique while filling out our SFS Customer Concern Follow-up Sheet HERE. (An online "complaint retraction" is VERY powerful!)
Steve