A Critical Mass Business (A company that can run without you!) must have clear communication between the office and front-line technicians. (CLICK HERE to review how a Production Day Sheet improves communication.)
A Production Day Sheet (PDS) will also help you "git 'er done" when you…
Include a Daily Load List of "non-inventory" items.
Sure, you should have a "re-stocking routine" for each service vehicle. CLICK HERE for a simple supply and re-ordering system. (After all, you can't "re-stock from an empty basket"!)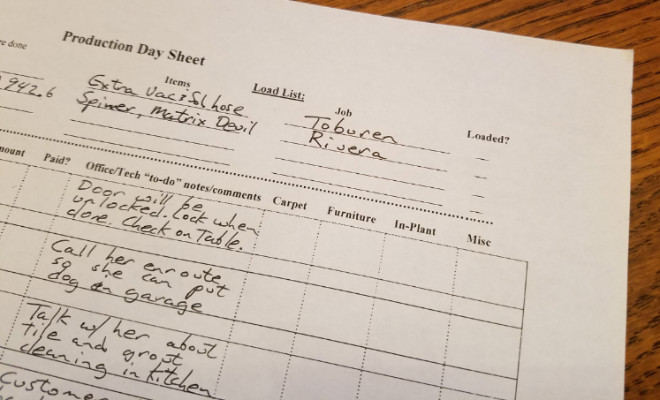 But what about extra vac hoses or the Dirt Dragon for cleaning wood floors that you don't normally carry on the truck? So my PDS included a "Load List" for items that were not normally carried on the truck. It also listed what job each item was for. Then…
I also added Employee Accountability by requiring the crew to check off on the PDS that the items have been loaded before they left the plant. The result was…
No more panicked phones like this: "Steve, nobody TOLD me to bring the Dirt Dragon!" That's right, in a Critical Mass Business everything should be in writing. (And without you in the shop screaming out orders!)
Your Production Day Sheet should be a "core document" that improves communication/ efficiency and adds Employee Accountability. But can it also reduce broken and lost equipment? Absolutely! CLICK HERE for my Implementing a PDS Part 3!
Steve