Good to the last drop?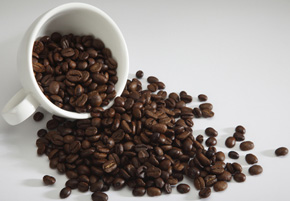 The sun's radiant beams of energy filtered through my windows with a warm blush of light that marked the inauguration of a new (and much anticipated) weekend!
In our home, weekends begin with waking to the rich aroma of freshly brewed coffee as it gingerly wafts throughout the house.  So in a haze, I lumbered down the hallway clad in my Sponge Bob pajamas,  traversing perilously through the maze of toys, discarded coats and an indolent cat that were haphazardly placed in my path, all in search of this liquid brown treasure!
In fact, I was as determined to reach its life-giving gift as a pilgrim is when he journeys to Mecca in search of spiritual enlightenment!  My olfactory senses were ablaze in anticipation of savoring the rich brew of Arabica beans that had begun their life deep within the moisture laden higher elevations of the Colombian mountains.  Today, hopefully their journey would be over …
The competition emerges …
You see, two days ago our elderly but faithful coffee maker had brewed its last.  Then yesterday, while shopping at a big box store, there she was!  Like a beacon in the night, this coffee brewing gem was shining brightly amidst a sea of ho-hum competitive brands.  It was as though she was beckoning to me:  "Take me home, take me home"!  So last night I ground and measured the beans and even (unusually for me!) read the instruction manual of my new beauty.   I even had a hard time getting to sleep anticipating the joyous flavors of the soon-to-be-freshly-brewed coffee!
So life was good until this morning!  But no!  The decanter of my shining new machine is FLAWED and trying to pour its rich prize is futile.  In their haste to get it to market the geniuses behind this product introduced the poorest designed decanter in existence! Grrrrrr!!!
As an unpaid research and development coordinator I have now flogged this decanter every way possible.  I have tried pouring the precious dark nectar quickly, slowly, from high and from low.  (Dispensing it like a Pilsner brew from a tap into a tall chilled mug has also proven ineffective!) Then my ambidextrous technique using the weak hand failed to work.  Galloping across the kitchen floor with decanter firmly clutched in hand reminiscent of Kobe Bryant sprinting across the hardwood floor of the Los Angeles Staples Center going in for an overhand dunk also failed.
It is useless!  This poorly designed decanter is going to spill its rich bounty despite any and all attempts to direct its river of richness into my waiting cup!  The brand name of this poorly designed appliance?  "Rival"!
The definition of the word "Rival" is:  "One who attempts to equal or surpass another, or who pursues the same object as another; a competitor." Think about it …
Lessons for you and me …
Now the famous brand name in office coffee makers is Bunn, well known through out the world for its unswerving delivery of piping hot coffee in about three minutes.  So was Rival attempting to convince the end user that they were "rival to" or even in the same league as Bunn?  What was their brand message?  More importantly, why was someone so far removed from the customer designing inferior products for unsuspecting buyers? (Probably someone with a Bunn coffee maker in their office!)
I couldn't help but think:  "Did the designers/ executives/ sales people of this coffee maker ever actually USE it?  Did they ever focus on the EXPERIENCE of actually POURING COFFEE FROM THIS DECANTER?"
In a caffeine deprived miserable state of frustration it became abundantly clear that I had made a buying mistake. I declared "enough is enough"!  Sadly, I wondered how many of my customers through the years have thought the same thing. Soooo …
Are you a Rival, or are you the real thing?
Just like a coffee maker, great service from a cleaning and restoration service is really about CONSISTENT DELIVERY.  So how does the delivery (and the "customer experience") of your service compare to your Rival? Do you know?  Do you think you should?
Ivan
SFS Restoration Columnist Ivan Turner is owner of Aero-Dry, a central Missouri water and fire damage restoration company. Ivan has also packaged his unique restoration strategies and offers them to other restorers through his Show-Me Marketing Solutions.