Before you do your carpet grooming, protector application and "final walk through" you likely put on surgical shoe covers (booties).  This is a great idea!  But notice how you create an even better Moment of Truth with this QuickTIP …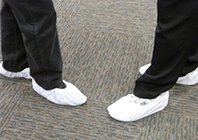 As you change into your booties put several more pairs in your pocket.  When the home owner notices your shoe covers (and they WILL notice) explain that you are wearing them to protect their "brand new" carpets. Then offer a pair (or two) to the customer so they'll feel better about walking on their beautifully cleaned carpets.
Home owners LOVE wearing the shoe covers and you have easily created yet another positive Moment of Truth!  Some cleaners even have customers save their shoe covers from the previous cleaning and already be wearing them proudly when they show up the next year!  (Yes, I know this is a bit weird!)
REMINDER: Many techs already wear shoe covers when working in their customer's home.  However, remind your techs (and yourself) that if you forget to take the booties off when going back and forth to the truck you change a positive Moment of Truth into a negative one!
Steve
P.S:  This "bootie procedure" makes for a very special Moment of Truth when you apply ScotchGard.  Remember that home owners are often a little hesitant about having any carpet protector applied.  ("Are they just spraying on water?  Is this stuff any good?" etc.)  But give the protector application "respect" by putting on shoe covers and your customer will respect the Scotchgard finish more too.
Note: Every week we share a timely, practical tip like the above. So if you're not already signed up for these weekly QuickTIPS, do so now.