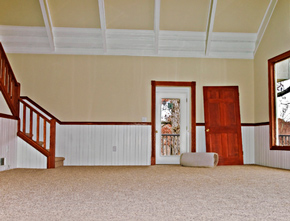 Homeowners are super focused on the cleaning of their carpet during its installation. And yet, why should a retailer bring up cleaning and maintenance issues on this happy day?
Think about it: "Remember, Mrs. Jones, your expensive new carpets are going to get nasty and spotted soon and you'll need to go through the ordeal and expense of having them cleaned!" That's right- not going to happen unless … You have a "carrot" for the flooring store to refer you.
Here's some "retailer referral" ideas:
1. Do the old donuts/pizza/take 'em a case of beer on Friday routine. Nothing wrong with this "Bubba" approach.  After all, businesses based on relationships build friendships faster than sharing a cold brewski together!  But what retailers really want is for you to …
2. Give great service/ do good work. Frankly put, many cleaners don't.  And your local carpet retailer has been burned before by referring marginal cleaners.  So you should …
3. Prove how good you are. Offer to clean the carpet retailer's home for free!  And then keep up the good work.  Send the carpet store copies of the glowing comment card reviews you receive from their referrals.  And always cheerfully clean up any carpet store boo-boos that happen during installation.
4. Put your name out there. Let the carpet store give out bottles of your free Lifetime Spotter to all their customers.  Home owners obsess over keeping their carpets looking new when they are, well … new!  And there your logo is on the bottle of their free Lifetime Replacement Spotter.  But the very best strategy is to …
5. "Partner up" with the carpet store. That's right- let the retailer include your free 12 month Spot and Spill Warranty on every carpet they sell.  So why should you service the retailer's client for FREE?* Because 12 months later you get to remind the homeowner they are almost "out of warranty"!  And the only way to renew their "Spot and Spill Protection"? You need to clean and reapply the protector!  A guaranteed long-term customer!
*  Don't worry about the "free spotting calls". Our SFS members who offer this free Spot and Spill Warranty tell me less than 1% of their covered clients ever call with a spill. Those few who do usually have other work done at the same time.
Steve Toburen
PS: Partnering with carpet retailers is a perfect example of "Hub Marketing" which is exactly what our "Assertive Referral Marketing FOCUS" below is all about. After all, who better to refer you than those you work with everyday? So how do YOU reach out to flooring retailers?