I hope our TOP TEN "How to Make More Money(MMM) on Each Job" has helped you MMM immediately!  However, the very best way to MMM is to focus on future "downstream" income.  Think about it…
You leave your delighted customer's home sparkling clean.  (You're happy too since you can MMM by pre-orienting your client on additional services.)  But a problem rears its ugly head!  How do you know they will call you back again?  Your answer?  You don't UNLESS you…
Create a "tollbooth" out of the homeowner.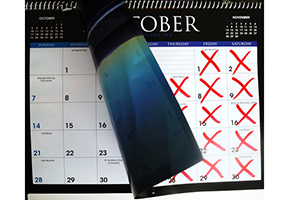 That's right- the very best way to MMM out of each job is to set up future work while you are there the first time in the home.  Here are two residential "Tollbooth" ideas. (I'll cover commercial Tollbooths down the road.)
Develop a residential pre-paid "Stay Beautiful" maintenance program- After the home owner hands you the check for the first-time cleaning  just ask, "Have you heard about our Stay Beautiful program?  We charge you 10% per month of a one time cleaning but you receive two cleanings per year.  In six months we'll come back and clean all the open areas.  And then one year from now we'll perform the same cleaning we did today and with no money due …" Now you set the customer up on an automatic monthly withdrawal from their credit card or checking account and you have a Tollbooth!
NOTE:  Get all the details on how to set up your own Stay Beautiful Program in this SFS Special Report.
Practice "Forward Scheduling"- Learn from your dentist.  As you pay your bill the receptionist just says, "So will Wednesday work for you again?  How about August 29th for your next cleaning?"  So first ask your client how often they have their carpets cleaned (most will say yearly) and then look at your calendar, "I'm already booked for the last week of February.  But I can reserve a slot for you next Wednesday, March 6th and then check with you 30 days before to see if this time still works for you."
NOTE:  Here's a great idea on how to "forward schedule" using refrigerator magnets.
So how do you develop residential "Tollbooths"?
Steve Toburen
Every week we share a timely, practical tip like the above. So if you're not already signed up for these FREE weekly QuickTIPS, do so now.