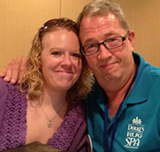 My name is Doug Moerschbacher and I'm from Pleasant Gap, Pennsylvania,  And yes- Strategies for Success (SFS) changed my life.  I really needed help.  After 10 years of being in business the first trade show I ever attended was Connections in Las Vegas.  There I was befriended by a fellow carpet cleaner and after hearing the story of my business he impressed upon me that I needed to attend SFS ASAP!!!
Well, I took swift action and got enrolled at the SFS seminar held in Roselle, IL a few weeks later.  I was completely amazed at the endless
resources that Chuck Violand, Bill Yeadon and Steve Toburen put up on the table.
My life is now completely different than it was before SFS.  I now have a successful business which is 18 years old.  I have learned how to have a super positive attitude towards business, to see opportunities and take them and turn them into reality.
To be completely honest with you I didn't implement the complete SFS system into my business.  Yet even so I transformed a mediocre janitorial service into the most successful (and highest priced) company in my area.  I am passionate in my commitment to provide excellent service and educate my customers.
Several years ago, I took my wife, Amanda, (who is now my business partner) to SFS in St Petersburg, FL.  It was a great experience for her and a wonderful review for me.  I learned even more the second time around!  In fact, I am planning on attending another SFS with my wife this winter in St. Petersburg.
I see Chuck, Bill, and Steve in my travels and every time I see them or read one of their articles I get a warm positive feeling!  These three men and SFS gave me the tools to take charge of my business and the opportunity for great success!
Doug Moerschbacher
Clean Sweep Professional Cleaning Services
Pleasant Gap, PA