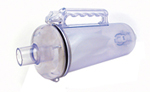 "Show and tell" isn't just for kindergarten class!  In fact, when you "show" a client the dirt coming out of their home they very likely will "tell" the world just how great you are!
True, at SFS you learn that "80% of how a customer decides if you did a good job or a bad job is based on how they FEEL about the person doing the work".  But a little dramatic visual proof sure will help reinforce those good feelings that create a Cheerleader! So…
Place an in-line Aqua Filter just inside the client's front door on each job.  Show the home owner the dirty extracted water boiling through the filter and say, "THIS is what we're taking out of your carpets!"  Your customer will be entranced!
NOTE:  A great side benefit of the in-line vacuum filter is your truck mount tank will stay much cleaner.
I always jokingly asked my client, "Would you like me to leave some of the gunk from this filter to convince any one who thought your carpets didn't need to be cleaned?"  (Such as her husband who is convinced the carpet cleaning snatched away his chance to buy that beautiful new shotgun!)
Restoration HINT:  Nothing will sooth the traumatized emotions of a restoration client more than seeing the incredible before and after contrast of a partially restored item they love.  How?  Check out this recent QuickTIP!
Commercial HINT:  As we all know, a picture is worth a thousand words. Even more so if you are trying to sell to an over-worked Facility Manager.  Here's how to use the "show and tell" concept to sell your commercial services.
Steve
Every week we share a timely, practical tip like the above. So if you're not already signed up for these FREE weekly QuickTIPS, do so now.
Also new this week: