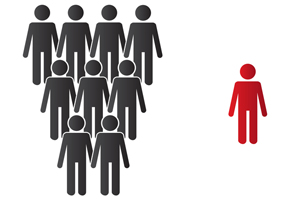 As a small independent trying to scare up water losses you face a huge challenge. Why? Because the typical overwhelmed insurance adjuster finds it easier/safer/faster to hire from his company's Preferred Service Provider (PSP) network. Bad news for you as a "little guy" since the PSP networks are dominated by the big franchises!*
So how can a water damage restoration company "break through the clutter" of an adjuster's day?  How can you get him or her to focus on the superior value and savings you provide?  My thanks to Andy Robinson, Jon-Don's Restoration Products Manager for this two-step "Restoration QuickTIP":
Wean an adjuster off his or her PSP network by:
A) Offering to happily take the "difficult losses" that their PSP doesn't want or can't get to right away!  Plus…
B)  Explain that you'll be delighted to be their "back-up" company for the emergency mitigation work and then will gracefully bow out if they want their PSP firm to finish the loss up.
Over time this "find the chink in their armor" approach will build a relationship with the adjuster as you become their "go to provider".  Plus you will be getting reimbursed for your "marketing efforts"!
*So are you one of the "Big Boy" franchises?  Congratulations- many of our SFS graduates belong to a franchise too!  However, with today's tough competition you can't complacently wait for the phone to ring with PSP losses.  You need to aggressively search for more insurance contacts and telling a new adjuster you'll happily do their "scut work" is a great way to break through the clutter!
NOTE:  Once you have this tough job you MUST make sure the Insured is delighted.  (The key to an adjuster's heart is no more angry phone calls from the Insured!)  The new 2013 SFS: Five Star Solutions includes a 20 page step-by-step "Value Added Service" outline through a typical water loss!
COMMERCIAL  HINT:  The above "let me do your nasty work" works great with doubtful/cynical facility managers too.  Or just offer to clean their worst area FREE!  The key is to quit "telling" and start "performing"!
Steve
Every week we share a timely, practical tip like the above. So if you're not already signed up for these FREE weekly QuickTIPS, do so now.
Also new this week: