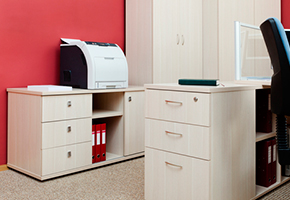 Almost all cleaning and restoration contractors want the regular cash flow of commercial carpet cleaning accounts! The fastest, easiest, cheapest way to get commercial work? Good old face-to-face selling! Here's how to do it…
A) Identify your 'target properties', B) dump your Displacement Activities, C) dress up and D) 'git 'er done'! (My SFS co-instructor Chuck Violand always says, "The toughest door to make it through is your own!")
Your challenge? Actually getting face-to-face with busy facility managers! That's why you should…
Use my "Show and Sell" technique to 'break through' to your commercial Decision Maker!
Here's how to "reach out" to Facility Managers of large public commercial and institutional accounts like office buildings, colleges and hospitals. (These large accounts can be very profitable IF you can 'break through'!)
Walk the common areas of a public access "target building".
Identify their worst soiling areas, take a few photos and develop a zoned maintenance plan. (Use markers and a photo of the building's emergency egress map.)
Explain to the Facility Manager's 'Gate Keeper' that you've completed the first draft of their Carpet Analysis and need ten minutes to share your results with their boss. (Show them a few photos and your zoned maintenance plan map.)
With these specific results you'll many times 'break through' and can interview the manager using my Commercial Carpet Analysis form HERE.
NOTE: Doing a free demo? Then try to have your contact there. Take lots of dramatic before, during and after photos.  Then follow up the next day and submit your proposal that you modified based on your previous interview. (With at least three frequency/area/price options!)
Why take so many photos?  Because now you can reach out to your property manager and SHOW them the great job you did!  Instant credibility!  And you can add the most dramatic "show and sell" photos to your brag book and/or website.
That's it!  By identifying AND solving a Facility Manager's 'Point of Pain'  you have "hooked their attention" and become a 'Concerned Consultant"!  So much better than endless blah-blah-blah mailings! (OR even worse sitting by your phone waiting for it to ring!)
NOTE:  CLICK HERE for my free 4-step Dedicated Sales Morning sales process!
Steve Toburen