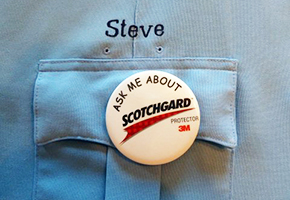 We all want to sell more carpet protector. After all, re-applying a protective finish after cleaning is fast, effective and very, very profitable!
And yet how many times after leaving the job have you lamented, "What a dummy I am! I forgot to bring up Scotchgard to the customer!" And how often do your technicians blow off even mentioning protecting the carpets to their clients?
But what if you could easily and simply motivate your customer to bring up the "protector subject" to you or your employees? Here's how to get your client to "remind you" about carpet protector…
Have all on-site employees pin a "Ask Me About Scotchgard Protector" button on their uniform.
By wearing a "Ask Me About Scotchgard Protector" button you are silently AND automatically raising your customer's consciousness about protecting their carpets. It is MUCH easier to simply answer the customer's "protector question" instead of doing a high-pressure sales pitch! Plus if your technicians are a bit shy about "selling" to their customers (many are) this moves the process into simply answering the client's question.
Restoration HINT: After doing the final cleaning on a water or smoke loss just automatically re-apply the carpet protector. Adjusters are normally happy to pay for "re-applying the protective finish" since it is still much cheaper than replacing the carpets. (Xactimate even has a line item for this service!)
Commercial HINT: If you are hitting resistance on selling a regular commercial account why not offer to re-apply carpet protector in the main traffic areas for free the first time? This "close the deal" bonus might just get your prospect's signature on the dotted line!
NOTE: Want to try these "Scotchgard buttons"? Just ask your Jon-Don rep about the "Ask Me About Scotchgard Protector" buttons. They're free to anyone who buys Scotchgard! (Just call 800-400-9473 to order your Scotchgard and then ask for product code: LT-3MButton-EA)
Steve
Every week we share a timely, practical tip like the above. So if you're not already signed up for these FREE weekly QuickTIPS, do so now.
Also new this week: