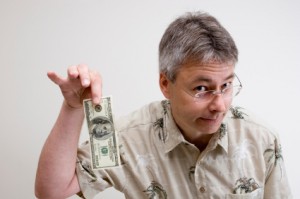 Help me out here, Steve. I want to show my gratitude to my customers who refer me. But money seems a bit tacky plus I don't have any to spare right now! So how should I reward my Cheerleaders?
Indecisive in Rochester
Good question, Indecisive, and a hotly debated one at every SFS seminar! Remember, we don't say we have ALL the answers, just most of them! So let me me throw out my two cents …
My feeling always was (and still is) that the almost sacred relationship I had with a Cheerleader was so special and pure that I never wanted to risk it with even a whiff of a "kickback". Every single customer who referred a customer (it's a whole science finding out who referred who) received a hand written note from our General Manager or myself.
I personally feel (and twenty years of my own experience and hundreds of our SFS members bear this out) that this sincere expression of gratitude is worth much more than whatever cheesy financial compensation we could offer. However, I cheerfully admit there are some much more successful than I who do the opposite. And that is great. Works for them. Whatever floats your boat. (Whatever you do, do SOMETHING to recognize the personal investment that your Cheerleader has made in your financial future.)
Steve
Seriously, though, I would appreciate hearing how others deal with Referral Rewards. I used to be dead set against "kickbacks to the customer" but some very successful SFS members report they are doing great with them. So lets hear it, folks!