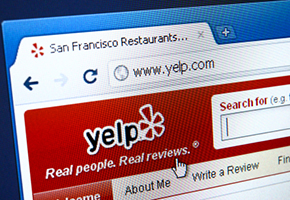 So just what is a "Yelp"? Let's go straight to the source with  the Yelp FAQ page, "Yelp is an online urban city guide that helps people find cool places to eat, shop, drink, relax and play, based on the informed opinions of a vibrant and active community of locals in the know. Yelp is the fun and easy way to find, review and talk about what's great — and not so great — in your world." Sound good? It gets better…
Yelp is FREE for basic community listings! (And of course more advertising features mean you start paying for this "extra stuff"!) However, your cleaning and/or restoration company can get started with a free Yelp Business Account. This allows you to share information with the Yelp community which CAN become a whole slew of prospective cheerleaders for your business!
With over 60 million registered users, 20 million posted reviews, and 100 million unique visitors recorded in January 2013, Yelp is one of the biggest players in the social media review site game. This means you really should focus on Yelp. Here is our step by step guide…
Getting Started with Yelp
First, go to biz.yelp.com and watch Yelp's video on how to get the most out of their services. Then create your business owner account and profile by clicking on the "Create your free account now" red button.  The helpful Yelp video reminds you to take these essential steps:
Complete your profile. Put in ALL your business information. Don't limit your profile to just your address and services provided. Reflect on what makes you stand out from your competitors. (SFS instructor Bill Yeadon calls this "Differentiation".) Your profile is where you really sell yourself so fill it out completely. Include your website and contact information plus lots of engaging, high-quality photos.
Respond to your reviews. You can respond to your Yelp customer reviews with either public or private comments. Your goal is to get a dialogue going and build a connection between you and your clients. (Remember that people are lonely today.) So respond to your Yelp positive and negative reviews. (More on how to respond later.) 

NOTE: T

o create a more "authentic" online listing 

Yelp encourages business users not to ask for reviews.

Monitor your traffic. (A common mistake it to put your profile up and then never check Yelp again.) Also don't overlook Yelp's metrics. These easily let you monitor how many times your profile is viewed and how people are interacting with your business. These measurements tell you if Yelp is right for your business.
NOTE: You may also want to create "Yelp Deals" promos. Yelp Deals are special offers which can get your business more exposure on the site.
When filling out your Yelp profile verify that:
Your business name is spelled correctly and appears as it does on Google Plus Local plus any other online listings you subscribe to.
Your business is placed in the correct category.
Your address and phone number are correct and are the same as your other online directory listings. (This "online synergism" is EXTREMELY important.)
Include a link to your website. (DUH!)
Use numerous high-quality, dramatic photos that show off you, your employees and your company. HINT: Include some dramatic "before and after" work photos.
Include as much detailed business information as you can.
Why Should my Business Use Yelp?
Yelp Community listings are free, so why wouldn't you take the 15 to 30 minutes needed to post your business?  Once you have a few reviews and can analyze Yelp's metrics you can decide how much time you should invest in responding to reviews. (Or spending money for Yelp advertising or using Yelp Deals, etc.) Remember that Yelp is a great way to unify your online presence and make your cleaning/restoration business more visible across online listings. While Yelp's advertising can be expensive, simply having a "community listing" (which includes all your basic business information and unlimited photos) is free!
NOTE: Even if you haven't set up your Yelp profile it may already be listed on Yelp. Say what??? Yep, your business listing may have been created by someone in your community. If so you most definitely want to take control of what is happening on your page. (Ignorance is NOT bliss with Yelp!) By taking control of your listing  you can correct any erroneous information, add photos, your website link, etc. You will also be able to respond to reviews, which is essential because of the nature of the Yelp review system.
What are the Cons of Yelp?
Yelp's demographic is a younger, well-educated crowd that mostly use Yelp to decide on eating or shopping options- not for finding carpet cleaning or restoration services. Also, Yelp uses a complicated algorithm to decide which reviews are posted. For example, if a customer who has never posted a Yelp review before gives you a glowing review with 5 stars it simply isn't going to show up! On the other hand, a regular Yelp reviewer is much more likely to have their review featured. This "Review Filter" is a source of great aggravation for many cleaners on Yelp but it is a fact of life.
To manipulate their Yelp results some businesses have starting paying for reviewers to post positive reviews. (Yes, we know. Shocking, isn't it!) Yelp is now cracking down big-time on purchasing reviews so don't do it!
You won't be surprised that some businesses are posting negative Yelp reviews of their competitors. And they then post positive reviews on their own Yelp page. (Can it be?) For example, "ABC cleaning almost ruined my carpets but Jon-Don Cleaning saved me! You absolutely need to call Jon-Don cleaning. I LOVE this company! Is it possible to give a business SIX STARS?" Ya-da, ya-da, ya-da!
Since reviews are an integral part of Yelp you must handle the negative (and often false or unfair!) reviews. If you can't deal with criticism in your business then you don't belong on Yelp, let alone the Internet! (SFS Director of Training Steve Toburen always says, "Run your company based on the emotions of your customers but NEVER make business decisions emotionally!") Have a plan for how to deal with the negative comments – don't be defensive, acknowledge the criticism, highlight what steps you are taking to correct the matter and try to win the customer back. (Possibly with a special offer.)
NOTE: Even better you can "head bad reviews off at the pass" with Steve's "Immediate Quality Check" call idea.
Is Yelp Worth my Time?
ABSOLUTELY, as long as you are using the free listing. Depending on your work area paying big bucks for Yelp advertising for disaster restoration, commercial/janitorial and residential carpet cleaning services may not be worth it. However, Yelp's popularity and incredible volume of links makes for great SEO and search result ranking, even without using its paid advertising services.
So do you "Yelp"? Share your  Yelp suggestions in the comments section below.
Your SFS Team