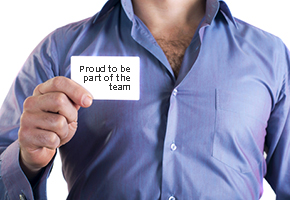 How long has it been since you have been the "new kid on the block"? Think back to your first day on a new job? Scared, nervous, intimidated, feeling all alone? I know I sure did!
Remember that people START a job because they need a pay check. But your employees STAY long term because they buy in emotionally to your "business family". Your mission? You must "stage manage" a new hire's arrival and reduce those negative "New Boy" feelings. So…
Give your new employee his or her very own imprinted business cards on their first day.
Yes, ALL employees should have their own personal business cards. (HERE are 16 ways to improve your business cards!) After all, what a great low-cost way to make them feel "special"! And of course they also should wear a photo I.D. badge too.
NOTE: When I suggest this "first day business card" strategy at a SFS seminar invariably someone will object, "But Steve, what if my new hire quits two weeks later?" Good question. But I reply, "What will this new employee do immediately after receiving their new cards? That's right- hand them out! Plus receiving their own business cards is a very positive Moment of Truth. (MOT) So suck it up and invest in your new employee!" (After all, you trusted them enough to hire them!)
Residential HINT: When introducing themselves your employee can avoid the "Should I shake their hand?" confusion by simply handing the home owner a business card. This is a great customer MOT! Plus the tech now feels more professional!
Restoration HINT: Traumatized Insureds are greatly relieved when every new employee showing up at the loss hands the customer their business card.
Commercial HINT: Encourage your employees to leave their business card everywhere they shop. (Give them a commission on any job their card produces.)
Steve
Every week we share a timely, practical tip like the above. So if you're not already signed up for these FREE weekly QuickTIPS, do so now.
Also new this week: