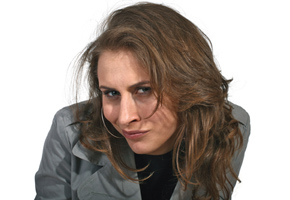 Want insurance adjusters to fight to get you in on their losses? In the SFS seminar we learn that the Primary Emotion of an adjuster is FEAR! That's right- adjusters are scared every time their phone rings! Can you blame them?
So I made Cheerleaders out of my adjusters by guaranteeing (and proving to them) that my company would bring PEACE to their lives! Adjusters appreciate and reward restoration companies that make their lives less stressful.
So how did I deliver on my promise to bring peace to a loss? By immediately making the restoration customer a Cheerleader for me! (And for the adjuster that recommended my services.) Home owners that appreciate (dare I say "love"?) you and your company simply don't complain to the adjuster. (The loss also runs more smoothly, is concluded faster AND saves the insurance company money- everyone wins!)
So just HOW do you make a Cheerleader out of a home owner with a devastating loss? By focusing on their traumatized emotions right from the git-go! When doing the initial walk-through with your restoration customer a) listen, b) empathize and c) tactfully take control by interviewing them. For example…
Ask the home owner if they were able to "rescue" any personal clothing. If not, suggest they pick out a few changes of clothing for you to process and deodorize overnight. Then you will deliver the family's clothes to their lodging the very next morning- freshly cleaned, pressed and odor free!
The immediate and complete restoration of their favorite clothes will put your customer's mind at ease and make them a Cheerleader right from the git-go. Plus you will build credibility when they see the items are restored "just like new"!
NOTE:  Heck, I would always offer to process some clothing at no charge for the home owner even before we were approved for the loss! As I tell every SFS class, "Once I had Mrs. Jones' underwear I knew we were going to get the job!"
This sincere "attitude of care and concern" will create a huge positive Moment of Truth (MOT) to "build credit" for the negative MOT's that inevitably follow later on the job! Plus the home owner would likely fight for me if the adjuster wanted another contractor to do the loss. (This didn't happen too often!)
As an added bonus, truly "helping people" is a great feeling for you and your entire team! In this age of corporate greed and selfishness, showing  the home owner that your company is in it for more than just the money is a great positive MOT for all concerned.
Steve Toburen

PS:  So what technique do you use to show your customers you really care?
Every week we share a timely, practical tip like the above. So if you're not already signed up for these FREE weekly QuickTIPS, do so now.