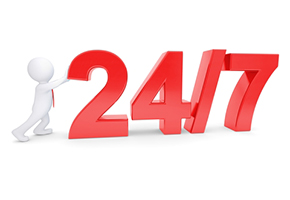 Last week's QuickTIP explained that answering all phone calls 24-7 can "negatively surprise" a client that just wants to leave a message. The answer? "Sort" your customers with a phone message giving options as in, "You may leave a message or dial #1 for 24 hour service and our representative will answer immediately…"
So now HOW can you consistently deliver on this 24 hour service pledge?
My company promised guaranteed one hour 24-7 response time to their location. And yes, I rolled out of my nice warm bed far too often! But then I realized working all night was not my "highest and best use" as the owner and manager of a rapidly growing company. So I reflected on how to motivate my employees…
Set up a rotating weekly schedule of "on-call" technicians to handle routine emergency calls. Pay your on-call employee a bonus ($75.00 to $100.00) just to be available (and sober!) for immediate work during this week.
Before we did this our employees HATED being called out without notice. But once they knew it was "their week" (and they were being compensated just for being on-call!) the problem went away. Plus money solves many issues! So we paid double time (with a three hour minimum even if the job took less time) for being called out. (And triple time if the call came in after 10:00 PM!)
NOTE: Always check any change in how you compensate your employees with your state labor laws.
Commercial HINT: Remember that this increased pay is for "emergency call outs" ONLY and doesn't apply to normally scheduled night shifts! (Just in case any of your employees read this!)
Restoration HINT: Your on-call tech should scope the after hours loss immediately upon arrival using our Water Damage Customer Interview Form. Then if needed call for reinforcements immediately. (And yes, we paid all called out employees double or triple time. I say, "Share the wealth"!)
Steve Toburen

Every week we share a timely, practical tip like the above. So if you're not already signed up for these FREE weekly QuickTIPS, do so now.
Also new this week: