[private]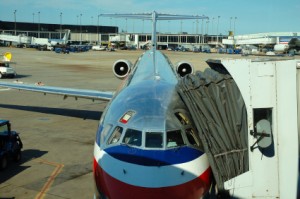 Sioux and I recently had a 36 hour "nightmare trip" down to our home in the Dominican Republic with my old buddy, American Airlines. Against my better judgment (and against all odds) I spent a good while composing the following letter and then taking FOREVER to get it submitted on AA's extremely-difficult-to-navigate "customer service" page:
Dear American, Our flight out of MCI was delayed by three hours due to "weather issues" at Dallas. The manager at KC told us that since we were flying internationally we would "be taken care of" at Miami and vouchers issued for the overnight stay. Of course, that didn't happen. WHATEVER!
I had already anticipated this and had a 3 1/2 star hotel lined up for 62.50 with airport shuttle with Hotwire.com. However, your Miami "customer service" desk informed us when turning down giving us vouchers that they had arranged a "discount" with a local Ramada for 69.00. I thought (foolishly) how bad can a Ramada be? They also told us that the Ramada was a five minute trip from the airport. WRONG! 20 scary minutes in a decrepit van. Anyway, folks, I don't have time to wax eloquent here. But you should be ashamed to be putting passengers in this dump and even more embarrassed to be presenting this hotel as a special discount. If you are not getting a kickback off of this scheme then you are being ripped off by the hotel. If you are getting a kickback then you are ripping off your passengers. Either way it is wrong.
Sincerely submitted,
Steve Toburen
PS Check my FF number. I have always gone out of my way to fly American- up till now. BTW, the hotel said that American crew never stays there. Of course not- they quite correctly would not put up with a pit like this. So WHY are you inflicting this hotel on your unsuspecting passengers who are trusting your recommendations? Hmmmm ..
A masterpiece of a letter. Right? I really didn't expect much from it. (Much less that there would be any CHANGES to an extremely abusive situation.) And I got exactly what I expected. A "nothing" reply:

Dear Mr. Toburen:
Thanks for contacting Customer Relations. You trusted us with your valuable time on May 14 and you were both understandably disappointed when we didn't get you to Santiago on time. There's clearly nothing more frustrating for everyone — customers and employees alike — than having to endure the difficulties associated with air travel when bad weather impacts our flights. From the details you provided, it certainly sounds as if the circumstances surrounding your flight were made even more frustrating by the lack of assistance you received.
When bad weather happens, in the interest of safety, we don't have too many options to get you to where you are going as planned. What we can do, however, is display a friendly attitude to help make the situation a little less trying and I'm sorry we didn't do so on this occasion. At the same time, we are glad that you took the time to share the details of your experience. Your comments enable us to see things from our customers' perspective and help us to improve. I can sympathize from your comments you were disappointed in the hotel and I have forwarded a copy of your email to our General Manager in Miami.
Bad weather is not something we can overcome and the direct impact on our flight schedules is unavoidable. I am sorry. Nevertheless, you have my assurance that we will continue to focus on the on time departure of our flights and our customer service standards.
Mr. Toburen, we are eager for another chance to serve your family — we will do our very best to get you to your destination as scheduled and provide you with the kind of service you deserve.
Sincerely,
Patricia Hobby
Customer Relations
American Airlines
This is an "outgoing only" email address. If you 'reply' to this message by simply selecting the reply button, we will not receive your additional comments. Please assist us in providing you with a timely response to any feedback you have for us by always sending us your email messages via AA.com.
I love it! An obviously canned reply that totally missed the point of a carefully handcrafted letter by a valuable customer (I fly American a lot) that could save American Airlines a lot of grief in the future. I could care less about the missed flight OR the weather delay!  My letter had to do with an arm- pit of a hotel they are sticking people in and they basically IGNORED ME! So what all can you learn from this frustrating scenario in your business. I've rattled on for far too long in this post. Let me collect my thoughts and do a followup later on today.
Steve[/private]