Last week we focused on dealing with those pesky emergency TM repairs. (Nothing will get your blood moving like a foot-tapping home owner wondering when you are going to actually start cleaning their carpets!)
And nothing got my blood BOILING faster than a tech swapping out a broken item (sprayer, wand, airmover, etc) and letting the unrepaired item go back out on another truck STILL BROKEN! (My blood pressure jumped as I wrote this!)
You see, it is the "AFTER" stuff that kills you. For example, the  non-working cleaning wand that is discovered AFTER your crew is already at the job… 20 miles from the shop! (Why is it always "20 miles away"?)
The answer? Change your Business Infrastructure to avoid ugly, profit destroying negative Moments of Truth! Create (and enforce) a written procedure that will…
Immediately tag a broken/non-working item and document the repairs needed. Here's how to do it…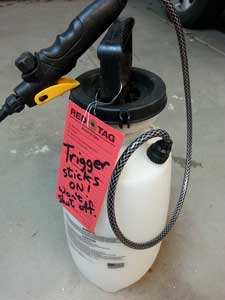 1. A damaged item should be "red tagged" immediately and…
2. An Equipment Repair Sheet (ERS) should be filled out and handed in to the office.
NOTE: Download the Equipment Repair Sheet I used HERE– no charge!
Your new written procedure should specify WHO receives this ERS and WHERE copies of it should go. And most importantly, WHICH employee is responsible for repairing the item and WHEN will it be done!
NOTE: This principle of "Shared Accountability" will transform your company! (It also cut my blood pressure by 30 points AND kept me out of jail because I was no longer tempted to beat up my employees!)
Restoration HINT: A clearly defined, smoothly running Business Infrastructure is even more important with the multitude of details in restoration. That's why every employee needs the "Load List" found on our Production Day Sheet.
Commercial HINT: Build on this consistent communication with a Job Profile Sheet for every commercial account. Since you now have the "job details" your commercial techs won't be able to hold you hostage!
Steve