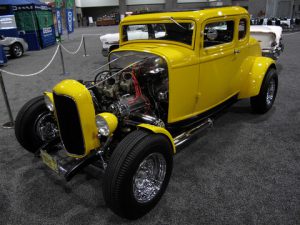 Andy Grove of Intel fame said it best, "Success breeds complacency and then complacency breeds failure." Absolutely true in our fast-paced cleaning and restoration industry.
So how about you? Has a 'degree of success' caused you to slip into complacency? Fight this sneaky trap! Instead…
Constantly be "tuning up your hot rod"!
I ask the car enthusiasts in every SFS Training session, "Is a hot rod ever 'finished'?" They reply, "NO WAY"! Instead, proud hot rod owners are constantly "tweaking" their baby! And yes, I want you to view your business as a "hot rod"!
Or even better, develop a team of 'improvement obsessed' employees that (just like you) that have bought into constantly tuning up 'their business'! If you like this concept…
RESOURCE: You'll get 100's of new hiring ideas and systems to recruit GREAT workers in our 3-hour, online SFS: Hiring the Very Best! LIVE seminar. To learn more and/or easily register online click HERE.
So never passively accept business problems/issues as "normal". Instead, ask yourself, "What can I 'tune up' (change) to make sure this particular problem NEVER HAPPENS AGAIN?" Here are some common "tuning up your hot rod" business problems/solutions:
"Our broken equipment keeps going back out to the field!" Implement this free Equipment Repair Sheet.  And insist your techs "red tag" non-working items!
"How can I stop 'disappearing tools'?" (GRRRRR!) Hold your techs "accountable" with a Personal Equipment Inventory List.
"How can we close 'price shoppers' on the phone?" Use this Phone Format to answer the dreaded "How much do you charge?" question!
REMINDER: You don't need to 'tune up' your Lead Conversion procedures on your own. Instead, just attend our 3-hour, online SFS: Winning over your caller! LIVE seminar. Click HERE for upcoming dates or to learn more…
Commercial issues/tune-ups:
"I don't know how much to bid!" Use this Commercial Production/Pricing Analysis Log to give you the data you need.
"How can I speed my guys up?" Make each trip to the truck count with this Commercial Set-up List.
Restoration problems/solutions:
"My techs aren't getting all the info on a water loss!" Give them this Water Damage Customer Interview Form.
"When we're swamped in losses we need to speed up!" Guide your techs with this Water Damage Restoration Set-up List.
Mr. Grove also famously stated, "Only the paranoid survive!" Can this warning help a restoration or cleaning contractor? Let's focus on this soon!
Steve