If you see this message, please login to access this FREE download.
Already have a password? Log in here. IF NOT, go here to register
(Registering is a simple, one-time-only process and we will NEVER spam you!)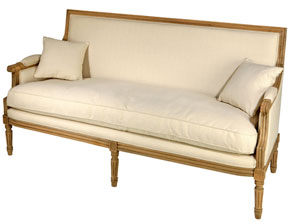 There are many paths to earning a great living in the Cleaning and Restoration Industry. Tile, grout, fire, water, residential and regular contract commercial carpet cleaning all offer some great advantages.  Even better, you can choose to add all of these diversifications into your company or leave a few for the other folks. After all, each of these options have their potential problems and dangers.
However, speaking of the good, old benefit/danger ratio let's not forget the cleaning of fine fabrics, especially when it comes to upholstery. Don't be mislead by the common notion that if you can clean carpet you can clean any fabric. Furniture, draperies and other fine tapestries require very special attention. However on the bright side for many cleaners, there are riches to be had for those that can clean these well. Even better, if you become an expert in the cleaning if fine fabrics you will carve a niche out for your self that will be virtually competition free and you can charge whatever you wish!
BUT even more so than in other areas of our industry, if you are going to specialize in fine fabric restoration you better have your ducks in a row!  So in this Special Report we warn cleaners against twelve common dangers in cleaning fine fabrics and how to address each case. Are you interested in the possibility of new money in the cleaning industry? Of course!  But before you jump in to fine fabrics carefully study this Special Report to see if Fabric Cleaning is for you!
Steve
Don't see the download button? You're probably not logged in...
Login now with your username and password.
If you don't have a username and password, simply register here and then login.
Please feel free to email us at admin@strategiesforsuccess.com for assistance with password or other download issues.
Interested in more practical downloads?

Check out more of our FREE Special Reports and industry specific QuickFIX paperwork downloads.
We recommend Adobe Acrobat 7 or better to open the downloads.