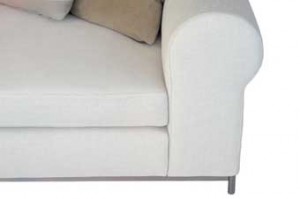 Steve,
We cleaned some furniture- an olefin sofa and chair about 2 months ago. It seems the upholstered chair was left on a screen porch. It had been exposed to pollen, humidity and some degree of moisture. Initially, we used our regular process for synthetic fibers. When that didn't work we tried a few other things, citric acid, a sour …. and a few others. We have now made FOUR return trips and there is still an invisible film that cannot be seen but definitely be felt.
The owner CLAIMS nothing has been applied to the chair. I specifically asked about what she has sprayed or applied to the chair.  She says, "Nothing".  I think she is lying. What else can be done to rinse this fabric?  You can't SEE a film, but you can feel it. Any suggestions?
Tearing My Hair Out In Pensacola
PS  It is a pain when someone lies to you about what they have, and have not, done. I assume they are afraid you will charge them more.
Hi Tearing,
Follow these steps exactly:
1. Go see your customer with joy in your heart and a bounce in your step.
2. Explain what you have done and say, "I'm out of ideas but we ALWAYS stand behind our work" and then hand her a check for the amount of the cleaning. Smile and thank her for the privilege of getting to know her. Mention that if another company can resolve her problem you would appreciate learning how they did it.
3. Leave and heave a big sigh of relief.
4. Take the missus out to a nice dinner and have yourself a margarita. (Maybe three.) As you drink it think about how nice it is to not have this sword hanging over your head. Life is too short.
5. Move on.
Steve
P.S. My guess is you have already wasted much more than the cleaning cost in negative emotional energy on this mess. Mack Clark used to talk about "management dilution".  My guess is this ugly situation is producing exactly that in your company!  So once again, fuggedaboudit and move on.