The question: Instead of giving kickbacks to plumbers how else can I get more water damage restoration jobs?
Steve's answer: Widen your network and don't overlook insurance agents with my 8-step Agent Selling System below.
Before reading Steve's complete answer, is this what you were looking for?
If not, then please check out these resources:
Hi Steve,
Are any SFS members doing a "Referral Reward" (kickback!) to plumbers? So far, I've been following the SFS "Value Added Service" systems to get more jobs through referrals from delighted customers. They are working well but how can I get more water damage restoration jobs? (I'm focused mostly on the residential market now.) Thanks !
Doing Great in California
PS I've printed up some water damage restoration brochures that look really professional!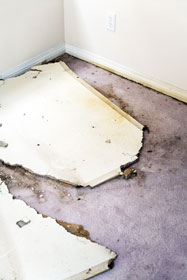 Dear Doing Great,
The water damage market (and especially the residential sector) has gotten MUCH more competitive in recent years. Why? Very simple. The cost of entry (equipment) is low and the potential profits are HUGE!
Yes, some of our SFS graduates use "referral rewards" to plumbers for more water damage restoration jobs. However, if you go this route remember that no matter how much you "give back" to the plumber, he or she is most concerned that their referral not come back to haunt them with a ticked-off customer! So go back and review the section in your Strategies for Success workbook on the Emotional Dynamics of dealing with a traumatized restoration customer. You can also download my Special Report "12 Secrets to a Smoother Restoration Business".
What else can you do to get more water damage restoration jobs? QUIT DEPENDING ON PLUMBERS! Widen your referral network to other sources- property managers, real estate agents, contractors in general, janitorial services, etc. Of course, your very best 'referral network' is still the local insurance agent! How can you "get in with an agent"? (Or any of these other "referral categories"?) Shoe leather! Follow these (very simplified) steps:
NOTE: The following system also works perfectly with commercial accounts like property managers!
1. Get organized. Make up four 'routes' of 20 insurance agents located close to each other. (Try to make each route of agents from one or two companies- for example one route will be only State Farm agents.) You will be contacting each of these 80 total agents once per month.
2. Suck it up! a) Dress up, b) carry your covered leather clipboard with business cards in it, c) put your shoulders back and your chin up and d) walk through their door! (To "break the ice" with the receptionist bring a jar of jelly beans in a gift bag.)
3. Confidently take action. Hand the receptionist your card and ask to see the agent. If he/she isn't in ask about their schedule and leave them a copy of that fancy brochure. (Write the receptionist's name down on your route sheet. Include a physical description too. Do the same for any employee you meet.)
4. Go back. One month later visit the account again if you can't get through to the agent. Repeat as needed.
5. Find out their 'Point of Pain'. When you do finally get to see the agent simply ask what issues they are facing now with their client's water losses. Open your clipboard and take notes while they talk. (This is a great Moment of Truth.) Then briefly explain how you can resolve these concerns and ask that they refer you on their next emergency loss. (Practice this at home.)
6. Reach out to them right away. After you leave write the agent a brief note thanking them for the conversation and include four or five business cards. Mention that you'll stop by next month. (If an agent requests that you not visit them politely agree and ask that they keep you as a back-up contractor. See NOTE below. Now replace them on your route with a new agent.)
7. Either way, don't stop. Simply move on to the next agent on your route.
8. Make at least 20 contacts a week… every week. Don't stop. (This is where most restoration contractors fail.) The work will come IF (here comes my favorite phrase) you "have the fire in your belly"!
NOTE: If an agent explains that they are really pleased with their current restoration contractor ask that they keep you as a back-up "go-to guy" if their main provider can't get to the loss right away. Promise that you'll do the initial extraction and 'damage containment phase' and then gracefully step aside when their 'primary contractor' wants to take over. Then do so. Keep the agent on your email/newsletter list.
Let us know how things are going.
Steve
P.S. Don't underestimate the potential technical and legal liabilities of water damage restoration. While I don't recommend it you CAN learn by the seat of your pants in residential carpet cleaning. (I sadly did!) But following this sloppy course with water losses is a guaranteed route to disaster. The better way? Check out our schedule of restoration classes.