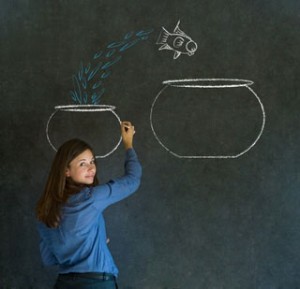 Starting and running my very own business was one of the greatest joys of my life! My guess is you feel the same way! Creating "something of value" can be exciting, gratifying and of course very, very profitable! But let's be painfully honest here…
Owning a cleaning or restoration business can also be "hell on earth"! And where do the trials and tribulations come from for the average small service business entrepreneur? I see three main "minefields" out there …
The most urgent challenge? #1- Lack of a regular "profit flow" (which is not the same as "cash flow") caused by not implementing (and sticking with) a consistent sales and marketing program! Your other two problems? #2- Finding, training, motivating and KEEPING quality employees that care (almost) as much about your business as you do and #3- not having a long term vision and strategic plan of where you want your business (and life) to go. However, if you have …
No profits? Then #2 and #3 sorta fade into insignificance! So let's check out some of the resources that this site (and our SFS seminar) can offer you to keep the cash coming in! Above all else…
1) Implement a firm Dedicated Sales Morning (DSM) for you personally. ("Hiring a salesperson" is an unmitigated disaster for most cleaning and restoration firms.) On the other hand…
2) You don't have to wait for your DSM! Instead, use "Serendipity Selling"!  Above all else you must…
3) Dump your "Fear of Rejection"!  And don't let your sale be detoured with a "procrastinator" when you always…
4) Define your "Next Step" before leaving.  Your ultimate goal is to…
5) Get to "YES"! Of course, it isn't easy so you must learn to…
6) Negotiate Down While Keeping Your Profits UP! NOTE: Our SFS members tell me they are seeing more and more "price hagglers" even from long time, loyal clients. So we've developed a free Special Report on "Winning Over a Price Shopper"  HERE. And to do all of the above you must…
7) Please avoid (or at least recognize!) the insidious danger of "Displacement Activities"!
Now you may be thinking, "Ya-da, ya-da, ya-da! All of the above is just more general rah-rah-rah stuff. I need specific ideas on how to bring more business in right now! I want it on a 'silver platter'!" Fair enough. Even though I gotta say that at the end of the day it is YOU who must "git 'er done"! (If you don't have the "fire in the belly" maybe you shouldn't be an entrepreneur.)
You want "specific ideas"? Great, let me hold YOUR "feet to the fire"! Just click on the links below for some specific "market sector" ideas:
1. Real estate agents- These hard working people are NOT "cheap". After all, their listing client usually pays your bill! Your problem? You are a) not "breaking through" their clutter and b) not motivating them to refer you. (These two tips WORK!)
2. Apartments- Sure, all cleaners love to bash apartment complexes. But hey- apartments are where the dirt (and move outs) are! And an apartment complex shouldn't care how much you charge- they are going to take the final cleaning out of the renter's deposit! HERE is how to tie an apartment manager to you forever by inserting your company into the actual lease!
3. Commercial facility managers and insurance adjusters- Your job is to remove their "point of pain" by becoming their trusted partner. How? By removing tenant or insured complaints by with a password-protected, online "shared folder" HERE! (And of course you should also have a private online folder to easily share information with your direct client.)
4. Build a "toll booth"- Nothing beats the cash flow of regular, contract commercial "encapsulation" accounts. (Especially if you have part time employees doing the work.) HERE is how you make this dream a reality…
Now don't you have some SELLING to do? As Chuck Violand says, "The hardest door to make it through is our own"!
Steve
PS And let me know how you are doing! Even better, chime in below with your "Making it easier" ideas!