A note from Steve:

Everyone gains from attending our Strategies for Success seminar.  Some excel and a few actually change their lives for the better with the vision they take away from SFS.  (Many of you are in this process right now and that is why Jon-Don provides this web-site.)

Meg Burdick attended our Langhorne, PA SFS seminar back in September of 2009.  In just a few months the Burdicks have made some tremendous changes in what was already a good business.  Even better for all of us, Meg has been kind enough to keep us up to date on her progress.  I've asked Meg to periodically up-date us on how she and John are doing "down in the trenches" of the professional carpet cleaning industry.  I think you will find her comments engrossing reading.  Thanks in advance, Meg!

Steve

PS  Wanna stay up-to-date with "Meg's Story"?  Click HERE to subscribe to an RSS feed that will let you know when we post the next "installment" of "Meg's Story" and other fresh content.
Hi Chuck, Bill and Steve,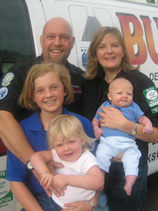 After attending SFS, I've been doing a lot of thinking and talking with my husband John about what things we should change and roll out.  While to a point I'm anal in tracking certain things, there are other things I know we should be doing and aren't.  (I should say things I know we should have done a long time ago, but haven't!)
Strategies for Success was a fantastic seminar, but I'm sure many SFS graduates go home energized and then the momentum wears off (failure to implement) over time.  If only Steve, Chuck and Bill could come home with us and be there to push us forward everyday to help us stay accountable!  That way we wouldn't get caught up in daily tasks that take us away from (as Steve says) "working on the business instead of in it."
As happy as we are with our growth and the changes we've made over the past couple of years, I know it could have been even better.  So here are some things we have either started doing since attending Strategies for Success plus more that we are planning for 2010.  For example …
I just started working with someone to help us with our ratings on Google etc.  He said he'll be making recommendations for the changes in the content to help out with the ratings (which includes copy writing and proofing) – so it's on the radar.  However, we certainly are interested in hearing what else all of you have to say and will incorporate those ideas.
Meg Burdick
Burdick's Carpet & Upholstery Cleaning
See the full listing of "Meg's Story" bulletins from the field.