"I, Steve Toburen , (right hand raised here) do solemnly promise to not let this QuickTIP become yet another rant on WHY you should stop 'settling' for less than the Very Best People as employees!"
Instead, you can CLICK HERE to enjoy yet again my three-week-long-ravings on HOW to actively recruit the 'Very Best People' to join your team. OK, just ONE MORE TIME let me remind you that…
It is ALWAYS a GREAT time to recruit and hire fantastic employees!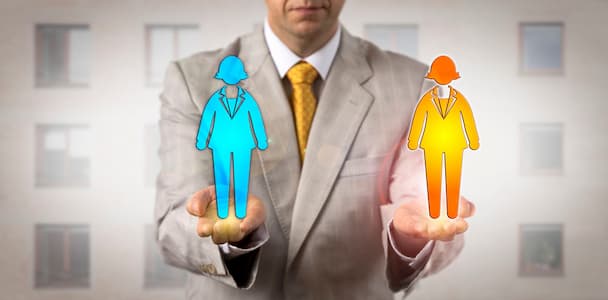 Hopefully serendipity has already struck! You are A) busy, busy, busy and B) people are begging to work for you! CONGRATULATIONS! And yet, now more than ever…
You need to 'hire right'!
The disruption caused by COVID-19 (and the time to reflect created by a lengthy lock down) has left many cleaning and restoration contractors resolved to 'reset' their business AND their life! This is GREAT! And yet…
An essential part of your 'life reset' should be 'keeping (or hiring) the Very Best People and dumping the rest'! Notice I didn't say "hire the best tech" or "hire the best bookkeeper". Nope! Simply hire reliable, focused, quality, 'drama free' individuals and your business (and life) will be fun again!
RESOURCE #1: You'll get 100's of new hiring ideas and systems in our 3-hour, online SFS: Hiring the Very Best! LIVE seminar. To learn more and/or easily register online click HERE.
NOTE: If you doubt me then CLICK HERE to see the dramatic contrast between a Very Best Person and the typical Marginal Worker.
So here is a quick 'road map' for selecting and hiring a Very Best Person as your employee. It all starts with your 'sorting and culling' process upon receiving an "Are you hiring?" phone call or walk in…
A) Do a quick 'Initial Interview'!
For example… Caller: "Hi… are you folks hiring?" Your office: "We're always taking applications! May I ask you a few questions?" Caller: "Sure."
Your office now switches to your 'Incoming Applicant Call' form and jots down their answers to these friendly questions:
1. May I ask your name? _________________________________ (If needed) Can you spell that for me?
2. May I get your phone number? _____________________________ Do you do texting? Whatsapp?
3. Your address? ______________________________________________
4. Do you have a valid (your state) driver's license? _________ # of points? ______ Any  DUI's? ______
5. Do you have reliable transportation to and from our office? _____________
6. Have you ever worked in the cleaning or restoration industry before? Tell me about it.
7. What kind of work are you doing now? How long have you been there?  What was your previous job? How long did you work there?
8. Are you available for optional 'on-call work'? If chosen, would you be available for a paid 8 hour 'working interview' that will let all of us get to know each other better? (If you are currently working we can schedule this session on one of your days off.)
NOTE: Your office should focus on the caller's personality. Then grade them on warmth, courtesy, articulation, confidence, maturity and 'professionalism'. (Admittedly these are 'slippery' attributes to quantify and especially over the phone!)
WARNING: Be extremely cautious at all times during the recruitment/hiring process to avoid anything that could lead to a discrimination charge. HERE is a helpful U.S. government guide.
B) 'High grading' time!
Review the caller's 'Incoming Applicant Call' form for obvious 'issues'. Here's some red flags from the above questions:
#4: No driver's license? A non-driving tech? Hmmmm! And lots of points or worse, a DUI? Check with your insurance company re: coverage. (Even if they can be insured, remember that you're searching for a Very Best Person!)
#5: No car? NEXT IN LINE!
#6: Previous experience? It IS tempting to hire an experienced technician. Just think of the training time you'll save! Or will you? Honestly, due to the difficult 'retraining' involved (especially with our Value Added Service culture) I seldom hired techs with previous experience.
#7: Work history? Thanks to COVID-19 there are many Very Best People who have lost their job… through no fault of their own. (This is an incredible hiring opportunity for you!) BUT if your applicant has had six jobs in the last two years? NEXT IN LINE!
#8: Available for on-call (or part time) work? This is an important part of the 'hiring courtship' that I promote in SFS Training. So we wouldn't disqualify someone if they weren't available but it did move them to bottom of our 'possibles' stack!
NOTE: Was the caller personable, warm, courteous, articulate, confident, mature and 'professional'? Probably not because if they were you'd be the one calling them for a job! Therefore, remember this point…
Hiring the VBP as employees (just like much of capitalism) is based on the principle of 'supply and demand'. Simply put, the more applicants you have the choosier you can be. This is also why you MUST avoid 'Desperation Hiring' where you just hire the 'first warm body' that walks through your door! (Which by the way NEVER worked out well for me!)
And yes, you MUST be picky in the above process because WHO you hire will have a profound effect on your business and financial success. Even more importantly this new employee will greatly influence your daily joy… OR lack of it!
So hopefully you have a nice stack of 'Incoming Applicant Call' form in your 'possibles' pile. GREAT! what's next? Let's talk about this in Part 2!
RESOURCE #2: You've hired some VBP? GREAT! But now you need to keep them busy! That's why you need our 3 hour, online SFS: Winning over your caller! LIVE seminar. Click HERE for 100's of 'Lead Conversion' ideas and systems easily book prospects who use text, email, Facebook, website chat or even… the phone! HERE are our upcoming class dates…
A final plea: Join the thousands of cleaning and restoration contractors in our Strategies for Success: Growing Your Business Facebook Group and share YOUR recruiting and hiring tips. (I mean, heck! Where do you think I get my ideas!) You don't have to be a SFS graduate to join us- all are welcome! See you there!
Steve